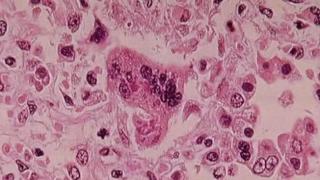 A suburban Philadelphia teen has been cleared of measles by the Montgomery Department of Health.
Montgomery County Health Department officials announced Sunday that the suspected case of measles is, in fact, not the contagious disease.
The county examined specimens and determined that the teen did have immunity to measles, which officials said was consistent with the teen receiving his MMR vaccine.
"We are extremely relieved that there is currently no public health threat in Montgomery County from measles, and I compliment the staff in the Montgomery County Department of Health and the state Department of Health for the professional manner in which they handled this case," said Josh Shapiro, Chair, Montgomery County Commissioners.
The boy was self-confined to his home as health officials awaited lab results.
Measles cases recently began to spike around the country after becoming highly rare due to mass vaccination. Some parents however have opted out of the vaccine due to fears over other conditions, including autism, that could be caused by the MMR (measles, mumps, and rubella) vaccine. The Centers for Disease Control and Prevention said that "studies continue to show that vaccines are not associated with autism spectrum disorder."
In Pennsylvania, parents can opt out of giving their children the measles vaccine for both religious and philosophical reasons.
The Department of Health reported there is no public health threat from measles in Montgomery County.