O'Donnell Dodges Evangelical Issues in Senate Race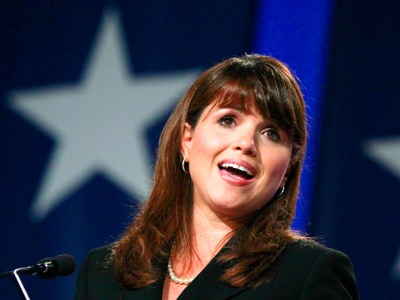 Suddenly, Christine O'Donnell doesn't want to talk about values and religion.
The Republican Senate nominee from Delaware, who said four years ago that she heard the "audible voice of God" encouraging her to run for office, is shying away from the evangelical views that built her career as a television pundit and conservative activist.
Trailing badly in the polls, O'Donnell has bobbed and weaved recently on her previously bold and provocative positions that are sure to alienate the all-important centrist voting bloc in politically moderate Delaware.
"What I believe is irrelevant," she said under the bright lights of a nationally televised debate Wednesday when asked if she still believes evolution is a myth and schools should be teaching creationism as science.
The tea party favorite is walking a delicate line, trying to avoid a third straight losing Senate campaign by maintaining the enthusiasm of her evangelical base while not scaring off the centrists who see such views as extreme.
On gays in the military, she said Wednesday that the decision should be left to the Pentagon _ declining to state her personal view but making clear that "I don't think that Congress should be forcing a social agenda onto our military."
Similarly, she characterized her opposition to embryonic stem cell research as more of a scientific objection than a religious one, arguing that adult stem cells are more valuable for research, a view not held by the many scientists who say embryonic stem cells are the most versatile and promising. She also gave an indirect answer about her opposition to abortion even in the case of rape or incest, calling it a "scare tactic" and saying rape and incest account for less than 1 percent of abortions.
O'Donnell hasn't always been so quiet.
Over two decades as a cable news commentator and evangelical activist, she has characterized homosexuality as a psychological disorder and called evolution a myth. She once said her opposition to using human embryos in stem cell research was the reason she ran for Senate the first time in 2006.
She told The News Journal of Wilmington during that campaign that she was initially reluctant to get into politics because she knew it would require diluting her views.
"But as someone who prays about every decision I make," she said, "I felt like God was leading me in the other direction."
She added: "During the primary, I heard the audible voice of God."
As recently as February, she emphasized the importance of values issues as she rallied conservatives to back her upstart primary campaign against moderate Republican Rep. Mike Castle, a former governor who was heavily favored to win the GOP nomination.
"He's got a horrible voting record when it comes to social issues," she said at the Conservative Political Action Conference in an interview with the conservative blog Liberty Pundits. "And many of those social issues -- whether it's marriage, whether it's life -- (President Barack) Obama has been very aggressive with his very liberal agenda. We need people who are not going to be wishy-washy about that."
O'Donnell's stunning upset over Castle has drawn strong national interest because it is seen as a key test of tea party strength in a general election. Like other tea party-backed candidates, O'Donnell has softened her rhetoric, and not just on social issues.
Asked Wednesday about comments in a 2006 debate that China has a "carefully thought out and strategic plan to take over America," she backtracked and said she believed she was misquoted, ignoring the existence of a recording of the debate in which she is clearly heard making the remarks. On education, she now says she wouldn't go so far as to eliminate the Education Department, despite saying last month that the country should "begin to repeal the role of the federal government" in education.
The 41-year-old Republican says her beliefs on some of her most unusual positions -- such as opposing masturbation -- have matured and that her religion doesn't drive her politics.
"Regardless of my personal faith," she said Wednesday, "it is by the Constitution that I will make all of my decisions."
Her Democratic opponent, Chris Coons, said that does little to clear up her views.
"Making sure that we've got on the record Ms. O'Donnell's views on things like prayer, abortion and evolution is important," Coons said. "These aren't just random statements on some late-night TV show. These are relevant to her service in the United States Senate, what sort of judges she would confirm, what sort of issues she would take up."