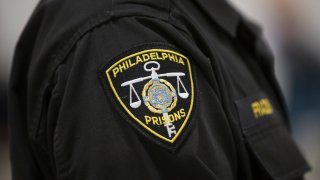 A female inmate at one of Philadelphia's correctional facilities died after contracting COVID-19, the disease caused by the coronavirus, city officials said Tuesday.
The woman, who was identified only as in her 40s, had been locked up in the city prison system for about a year and a half, Prisons Commissioner Blanche Carney said.
She was the first inmate of the prison system to die of the coronavirus. A total of 206 city residents have died during the pandemic. Carney declined to give more details about the woman out of respect for her family.
"I want to remind everyone that incarcerated men and women are human beings," Mayor Jim Kenney said. "They are someone's family member and friend, and we owe them the dignity of acknowledging their life and their passing."
The son of another woman serving time in the same unit at Riverside Correctional Facility as the inmate who died told NBC10 that his mother is confined to her cell for 23 1/2 hours a day.
Anthony Torres said his mother, Sandra Sanchez-Pacheco, gets 15 minutes in the morning to leave her cell and another 15 minutes at night. She told her son that the three other women in her unit also contracted COVID-19, in addition to the woman who died.
"It's like being in solitary. That drives people crazy," Torres said. "She used her 15 minutes to call me, bawling her eyes out. She doesn't want to die in there. She wants to get out and see her grandkids."
Coronavirus Pandemic
Full coverage of the COVID-19 outbreak and how it impacts you
Sanchez-Pacheco, of the Kensington section of Philadelphia, is 53 years old with two sons and six grandchildren, Torres said. She is about eight months into a 23-month prison term, according to her son and court records. She pleaded guilty last year to a drug-related charge. Court records indicate she is serving a term of 11-to-24 months.
Torres said he would like to try to ask a judge to let her finish her sentence on house arrest, or serve house arrest until the pandemic is over. But getting a hold of anyone in the legal system has not worked.
"I tried talking to her lawyer. He's not in the office," Torres said. "I've been trying to talk to the public defender's office. I couldn't reach anyone. My mother wrote a letter to the judge's chambers. I'm assuming the judge i working from home."
He added, "She's scared to die in there. She's terrified and I'm terrified for her."
Judges are still hearing petitions for releasing inmates, and District Attorney Larry Krasner and the Defender's Association last month compiled a list of 2,000 inmates recommended for release from city prisons.
Last week, there were hearings for 120 inmates on Tuesday, Krasner told NBC10. He said that number grew Wednesday and Thursday.
The city's prison population has declined rapidly during the Kenney administration, with advocacy from the District Attorney's office to reform how bail is given and what type of offenses would be charged. Kenney said at his daily press briefing on Tuesday that the current number of city inmates is 50% what it was when he took office in 2016.
He described the prisons department as "extremely proactive" in updating protocol and procedures during the outbreak. He also noted that the prison population in city prisons is down 50 percent since he took off in 2016.
The woman was transferred to a city hospital last week, and died Tuesday morning, officials said.
"She had been under constant medical supervision," Kenney said. "But despite these efforts, she succumbed to the virus this morning."