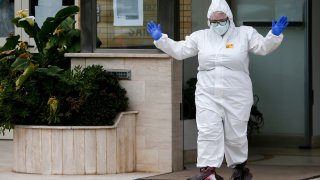 Governments around the world are wrestling with when and how to lift economically painful virus-control measures as unemployment rises and rent payments come due.
Many places have mandated strict restrictions on movement to try to stop the spread of a new coronavirus. Though data shows social distancing is helping to slow the virus, global deaths passed 165k with over 2.4 million confirmed cases. The numbers all but certainly underestimate the actual toll.
Most governments remain cautious, even as the economic toll rises. Public health experts warn that easing shutdowns must be accompanied by wider testing and tracing of infected people to keep the virus from coming back.
The debate in the U.S. has taken on political tones. Republican President Donald Trump urged supporters to "LIBERATE" three states led by Democratic governors, tweeting the kind of rhetoric some have used to demand an end to stay-at-home orders that have thrown millions out of work.
South Korea's Health Minister Kim Gang-lip said Saturday that new guidelines could be issued soon that officials have said would allow people to engage in "certain levels of economic and social activity."
Top leaders of China's ruling Communist Party called for deficit spending and a more flexible monetary policy after the economy shrunk 6.8 percent in the first three months of the year.
Authorities said that almost everywhere, thousands have died with COVID-19 symptoms — many in nursing homes — without being tested for the virus, and have thus gone uncounted. In Britain, with an official count of about 16,000 dead, the country's statistics agency said the actual number could be around 15% higher.
An Associated Press tally from news media reports and state health departments indicates 6,912 U.S. deaths have been linked to coronavirus outbreaks in nursing homes and long-term care facilities. The U.S. government has not been releasing a count.
China reported Saturday a nearly 40% increase in its death toll to 4,632 victims, reflecting a major upwards revision made the previous day by authorities in Wuhan, the nation's hardest-hit city.
The official death toll in the U.S. has topped 40,000, with more than 758,000 confirmed infections.
---
WHO to Countries Moving to Ease Lockdowns: Be Prepared for Any Resurgence
The head of the World Health Organization has warned countries that are moving to ease their pandemic lockdowns to be prepared to respond rapidly to any resurgence.
Tedros Adhanom Ghebreyesus told a virtual meeting of health ministers from the G-20 group of major developed and emerging economies Sunday that he was "encouraged" by the fact that several are "starting to plan how to ease social restrictions."
But he said "it is critical that these measures are a phased process."
Tedros told ministers that "lifting so-called lockdown restrictions is not the end of the epidemic in any country; it's just the beginning of the next phase."
He said that "it's vital in this next phase that countries educate, engage and empower their people to prevent and respond rapidly to any resurgence; to ensure they have the capacity to detect, test, isolate and care for every case, and trace every contact; and to ensure their health systems have the capacity to absorb any increase in cases."
Tedros also expressed concern about the growing pace of the pandemic in poor countries that lack the resources to cope with a major outbreak.
In an apparent retort to leaders such as U.S. President Donald Trump, who slammed the organization's response to the pandemic, Tedros insisted that "since the beginning, WHO has sounded the alarm bell loud and clear."
He also urged ministers "to continue to fight the pandemic with determination, guided by science and evidence."
---
France Will 'Learn to Live With the Virus:' PM
France's prime minister warned Sunday that his compatriots will need to "learn to live with the virus" after the country lifts its lockdown.
People will probably be required to wear masks in public transport, and those who can work from home should continue doing so, even after France starts easing confinement rules May 11, Prime Minister Edouard Philippe said.
And he suggested that no one should be planning faraway summer vacations.
The virus has hit France especially hard, killing nearly 20,000 people as of Sunday and overwhelming its renowned health system.
While the virus appears to have peaked in France earlier this month and is now receding "slowly but surely," Philippe warned: "Our life after May 11 will not be the same as before. ... And probably not for a long time."
He warned that the economic crisis, France's worst since World War II, "will be brutal."
Philippe said France is "far from herd immunity," citing estimations that about 2 million to 6 million French people have been infected with the virus, or about 3% to 9% of the population. He did not elaborate on the projections.
---
More Than 1 Million European Cases of Virus
The European Center for Disease Control says the continent now has more than 1 million confirmed cases and almost 100,000 deaths from the new coronavirus.
According to a tally posted on the ECDC website Sunday, Spain had the most cases in the region with 191,726, followed by Italy, Germany, Britain and France.
It listed Italy as having the most deaths in Europe, with 23,227, followed by Spain, France, Britain and Belgium.
According to the tally, Europe accounts for almost half the global caseload and more than half the total deaths.
---
Italy Registered Lowest Number of Coronavirus Deaths in a Month
Italy on Sunday registered the lowest number of deaths of people with coronavirus in a month, with the death toll rising by 433 in the past 24 hours.
That brings the national total to 23,660, still the second-highest in the world after the United States. The number of positives rose by just over 3,000 to 178,972 — the lowest increase in more than a month.
Because of the lack of comprehensive testing, health authorities estimate that the number of cases and deaths have been significantly under-estimated.
Italy was the first western country to be hit by the coronavirus, in late February. While the epidemic curve continues to plateau, authorities have begun discussions on how to ease a nationwide lockdown, which has been extended through May 3.
Pressure on Italian hospitals continues to ease, but by just 26 beds on Sunday, with 25,033 people hospitalized and 2,635 in intensive care.
---
"Minuscule Traces" Of Coronavirus in Non-Potable Water In Paris
Paris has shut down part of its water system after discovering trace amounts of the virus in water used for cleaning streets and watering public gardens.
City Hall said in a statement Sunday that Paris drinking water remains safe.
A municipal water management laboratory discovered "tiny traces" of the virus at 4 of 27 sampling points in the city's network for non-drinking water, the statement said. That network is distinct from the city's potable water system.
After the discovery, the city suspended use of the non-drinking water network for public places and is using the potable water system instead.
The non-drinking water is pumped in from the Seine River and an adjacent canal, and is used for street cleaning, watering parks and in some city fountains. All Paris parks, gardens and fountains are closed to the public as part of France's anti-virus lockdown.
---
Doctor Protests Outside Downing Street Over Lack of PPE
A British doctor held a lone protest outside Prime Minister Boris Johnson's office Sunday to highlight the lack of personal protective equipment for the country's medical workers battling the coronavirus outbreak.
Meenal Viz is a junior clinical fellow with the U.K. National Health Service. He wore hospital scrubs and a facemask as he held a hand-drawn sign outside Downing Street that said, "Protect Healthcare Workers."
She said she was demonstrating for vulnerable members of staff. The British government has been under fire for weeks over the distribution of PPE. At least 50 NHS workers have died after contracting the virus, including a pregnant nurse whose baby was delivered by emergency Caesarean operation.
"We are still in a position where we're on our knees begging for PPE and if we had enough we wouldn't have grannies stitching up our masks and we wouldn't have pensioners raising money for the NHS," said Viz, who is herself pregnant.
"The government should have been prepared a long time ago and that's why we are in this position now."
British officials are scrambling to source equipment and said a consignment of 84 tons, including 400,000 gowns, is on its way from Turkey.
---
Over 1k Virus Cases on French Ship
Figures from France's military leadership show more than half the sailors aboard the country's flagship aircraft carrier contracted the new virus as the ship traveled through the Mediterranean Sea, the North Sea and the Atlantic Ocean.
A navy official says 1,046 of the 1,760 people aboard the Charles de Gaulle tested positive for the virus.
Navy Chief of Staff Adm. Christophe Prazuck attributed the quick spread to the "great population density aboard the ship."
Speaking Saturday evening to Europe-1 radio, Prazuck said virus protection measures weren't followed properly, which "did not allow us to detect the beginning of the epidemic, and therefore to contain it."
The ship is undergoing a lengthy disinfection process since returning to its home base in Toulon last week.
One person who served aboard is in intensive care and more than 20 others are hospitalized. Among those infected are two U.S. sailors serving as part of an exchange program.
Investigations are underway into what happened, and French military leaders have been questioned in parliament.
A similar outbreak on the USS Theodore Roosevelt led to the firing of its captain and the resignation of the acting U.S. Navy secretary.
---
South Korea Reports 8 More Cases Over 24 Hours
South Korea has reported eight more cases of the coronavirus over the past 24 hours, the first time for a daily jump in the country to drop to a single digit in about two months.
The Korea Centers for Disease Control and Prevention says the additional figures released Sunday took the country's total to 10,661 with 234 deaths.
It says 8,042 of the total have been recovered and released from quarantine and that 12,243 others were under tests to determine whether they contracted the virus.
South Korea's caseload has been waning in recent weeks since it recorded hundreds of new cases every day between late February and early March, mostly in the southeastern city of Daegu and nearby areas.
Despite the recent downward trend, South Korean officials have warned about the possibility of a broader "quiet spread" with people easing up on social distancing.
Hundreds in Brazil Denounce Lockdown Measures
Hundreds of people denouncing pandemic lockdown measures opposed by President Jair Bolsonaro snarled traffic in major Brazilian cities on Saturday.
Protesters in trucks, cars and on motorcycles honked horns on the streets of Rio de Janeiro, Sao Paulo and the capital of Brasilia, calling for governors to resign over measures that have forced most businesses to close for weeks.
Bolsonaro has been a fierce critic of the states' stay-at-home measures, arguing that the economic harm could be more damaging than the illness. The protests took place a day after Bolsonaro fired his health minister, who had been promoting isolation measures.
In Rio de Janeiro, about 100 vehicles took part in the gridlock and temporarily shut down Copacabana Beach.
In Brasilia, Bolsonaro reiterated his intention to start reopening the economy.
---
Queen Elizabeth Wants Low-Key Birthday Amid Virus; Nearly 15,500 Deaths in Britain
Britain's Queen Elizabeth doesn't want a gun salute for her birthday because she doesn't think it's appropriate during the coronavirus pandemic.
The British monarch, who turns 94 on Tuesday, decided not to publicly mark the occasion in any special way, including the artillery salute she traditionally gets on her birthday.
"Her Majesty was keen that no special measures were put in place to allow gun salutes as she did not feel it appropriate in the current circumstances," Buckingham Palace said. She'll also be keeping private any phone and video calls with her family.
The queen has previously stressed the importance of lockdown measures, saying in her Easter message that "by keeping apart we keep others safe."
British authorities reported 888 more coronavirus-related hospital deaths on Saturday, bringing the total to 15,464.
The latest daily figure from the health department is 41 higher than the previous day's 847 deaths.