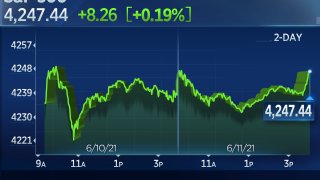 U.S. stocks rose slightly on Friday with the S&P 500 adding to its new record, as Wall Street wrapped up the week on a high note.
The S&P 500 climbed 0.2% to a fresh closing high of 4,247.44, a second record close in a row. The Nasdaq Composite advanced 0.4% to 14,069.42 with Apple, Microsoft and Netflix all registering gains. The Dow Jones Industrial Average gained 13.36 points to 34,479.60.
In terms of weekly results, the S&P 500 posted a 0.4% gain and marked its third consecutive positive week. Meanwhile, the Nasdaq Composite was the outperformer with a rally of nearly 1.9% and posting its fourth winning week in a row. The 30-stock Dow fell 0.8% on the week.
The market built on Thursday's gain as investors shrugged off a report showing inflation rising at its fastest pace since 2008. The Consumer Price Index jumped 5% in May from a year earlier, at a slightly higher pace than expected.
"While the May CPI report came in above estimates, the market was not too surprised and digested the data as transitory for now," said Craig Johnson, technical market strategist at Piper Sandler. "The Treasury market appeared to be in agreement with the temporary inflation outlook."
Perhaps giving a boost to stocks has been the reaction in the bond market to the hot inflation reports. The 10-year Treasury yield slid just below 1.43%, marking a three-month low. It was trading above 1.77% earlier in the year.
Tech companies tend to underperform in a rising-rate environment as higher rates lower the present value of expected cash flow for growth-oriented companies. The tech-heavy Nasdaq has been the relative loser in 2021 among the major averages as bond yields turned higher.
Some of the meme stocks were rebounding after a rough day on Thursday. AMC shares jumped more than 15% and GameStop gained nearly 6%. Those two suffered double-digit percent losses on Thursday as momentum in the Reddit favorites faded.
"The ups and downs of meme stocks have generally had little impact on the overall direction of the stock market," Peter Berezin, BCA Research's chief global strategist, said in a note. "Nevertheless, growing interest in meme stocks is positive for equities over a medium-term horizon... This is because the meme stock phenomenon is drawing funds into the stock market, boosting prices and liquidity in the process."
Copyright CNBC