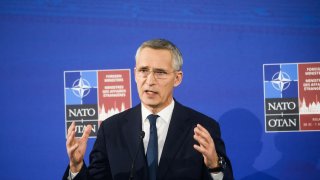 Ukrainian and Western officials fear a Russian land invasion of its western neighbor, whose Crimean peninsula Russia annexed in 2014.
Moscow has rejected the notion, pointing the finger instead at what it says is aggression from Ukraine.
Russia may be in economic decline, but it still poses a formidable military threat — particularly in the realm of advanced weaponry and cyberwarfare, NATO's Secretary General Jens Stoltenberg said Thursday.
"Russia is a power in decline, meaning the economic importance of Russia, the GDP is not keeping track with many other countries in the world. But even an economy in decline and a power in economic decline can be a threat and a challenge," the NATO chief told CNBC's Hadley Gamble.
"Not least because Russia has nuclear weapons. And Russia is investing in new modern military capabilities, deploying new hypersonic missiles, and also new nuclear-capable missiles deployed here in Europe. And therefore we need to take that very seriously," Stoltenberg said.
The comments come amid heightened tensions and a volley of verbal threats between Russia and the West, against the backdrop of a massive Russian troop buildup along the border of Ukraine.
Ukrainian and Western officials fear a Russian land invasion of its western neighbor, whose Crimean peninsula Russia annexed in 2014. Moscow has rejected the notion, pointing the finger instead at what it says is aggression from Ukraine.
Ukraine's Foreign Minister Dmytro Kuleba told CNBC on Thursday: "Putin has not decided yet whether to do a military operation ... But if he decides to do so, things will happen in the blink of an eye."
NATO will keep providing 'support' for Ukraine
Ukrainian officials say some 90,000 Russian troops have amassed along the border, and satellite imagery shows a significant volume of heavy weaponry along with them.
"What we see now is very concerning because we see a gradual but significant Russian military buildup in and around Ukraine with armored units, with artillery, with battle tanks, and with tens of thousands of combatant troops," Stoltenberg said. "And on top of that we see an aggressive rhetoric from the Russian side, and we know the track record of Russia. Russia has used military force against Ukraine before."
Russia supported separatist insurgencies in eastern Ukraine following the 2014 annexation of Crimea, plunging the region into fighting that has left at least 14,000 people dead. Moscow rejects charges of instigating violence, saying it was protecting ethnic Russians from persecution.
Western officials have warned of "severe consequences" for Russia in the event of a new conflict, but have not specified what those might be beyond potential sanctions. Some analysts say this signals a lack of decisiveness or unified approach among Western leaders as to how to deal with Russia.

In any case, NATO has expressed its commitment to providing "support" for Ukraine as a partner. Though because it is not a formal member of the transatlantic alliance, it is not covered by the mutual defense treaty that would guarantee it NATO protection if it were attacked.
"We don't see a threat against NATO allies, we see a threat against Ukraine," Stoltenberg said. "Ukraine is a highly valued partner, but not a NATO member ... covered by the NATO collective security."
"When it comes to Ukraine, a partner, we can add support. And I think what we need to do now is provide political support but also practical support."
This, Stoltenberg said, includes NATO allies providing training, capacity building, joint exercises and various equipment to strengthen Ukraine's armed forces. "Ukraine has the right to self-defense, and NATO allies are helping them to strengthen that self-defense to help to prevent a Russian military attack on Ukraine."

Stoltenberg also stressed the need for dialogue with Russia to reduce tensions, something Russian President Vladimir Putin has called for as well. So far, however, that dialogue has not materialized.
Europe's energy reliance on Russia
The situation is complicated by Nord Stream 2, the controversial pipeline that would bypass countries like Ukraine and Poland to deliver gas to Europe. Some European leaders including those in Ukraine and Poland have called for the pipeline to be scuttled, and the German government has now suspended the regulatory work on it.
But Europe depends on Russia for much of its gas, which is seeing record high prices as winter sets in. Russia has been accused by many in the West of using energy as a political weapon.
This dilemma, Stoltenberg said, "highlights the importance of diversification of [energy] supplies, as a security imperative but also the reality that climate change has to lead to reduced dependency on fossil fuels."
As for Nord Stream 2, following Germany's suspension of regulatory work on the pipeline, "It remains to be seen what will be the end outcome of this process," Stoltenberg said. "Also many allies have stated the importance of reducing dependency on Russia."
Copyright CNBC