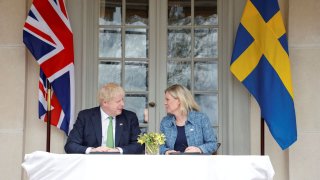 This was CNBC's live blog tracking developments on the war in Ukraine on Wednesday. See here for the latest updates. 
Ukraine's National Guard reported that at least 500 of its members were killed since Russia's invasion more than two months ago. It's the first time the military force has announced its death toll since the war started.
U.K. Prime Minister Boris Johnson has signed a security declaration with Sweden, pledging to support the Nordic country if it comes under military attack. He is expected to do the same with Finland on a subsequent visit to Helsinki in the coming 24 hours.
Ukraine's allies in the West appear to be preparing for a long war, with no resolution to the conflict between Moscow and Kyiv on the horizon.
The U.S. believes Russian President Vladimir Putin is preparing for a long conflict in Ukraine, and a Russian victory in the Donbas in the east of the country might not end the war, the U.S. Director of National Intelligence Avril Haines warned yesterday.
Meanwhile, Ukrainian officials claim that their troops have pushed back Russian forces from several villages surrounding the city of Kharkiv, in northeastern Ukraine.
Elsewhere, the U.S. House has passed legislation that's set to deliver $40 billion in military and humanitarian aid to Ukraine.
The U.S. Department of Defense also announced it has committed more than $4.5 billion in security assistance to Ukraine since the start of the Biden administration. Of that, around $3.8 billion has gone to fund Ukraine's war efforts since Russia's invasion began on Feb. 24.
Ukraine says more than 500 members of its National Guard have been killed since invasion
More than 500 members of the National Guard of Ukraine have died since Russia's invasion in late February, said Oleksiy Nadtochyi, the head of its operational department, according to NBC News.
This is the first time the military force has announced its death toll since the war began.
Nadtochyi told state media that 501 members were killed and 1,697 have been injured, NBC News reported.
The National Guard covers Ukraine's northern border with Belarus and is also involved in operations in the country's eastern and south regions, Nadtochyi added.
Ukraine's National Guard was formed in March 2014 when Russia annexed the Black Sea peninsula of Crimea and serves as a military unit with law enforcement powers.
— Chelsea Ong
Ukraine reports battlefield gains as Europe's energy worries grow
Ukraine reported pushing back Moscow's forces in a counterattack that could signal a shift in the momentum of the war and shut gas flows on a route through Russian-held territory, raising the specter of an energy crisis in Europe.
Ukraine's armed forces' general staff said it had recaptured Pytomnyk, a village on the main highway north of the second largest city of Kharkiv, about halfway to the Russian border.
"The occupying forces moved to the defense in order to slow down the pace of the offensive of our troops," it said. "The settlement of Pytomnyk ... was liberated."
Following days of advances north and east of Kharkiv, one Ukrainian military source said on condition of anonymity that Ukraine's forces were within just several kilometres of the Russian frontier by Wednesday morning.
— Reuters
U.S. Ambassador to Russia met with Kremlin officials, State Department says
U.S. Ambassador to Russia John Sullivan met with Russian government officials, a State Department spokesperson confirmed to NBC News.
The spokesman said the meeting was pre-scheduled and was set up to "discuss a narrow set of bilateral issues."
State Department spokesman Ned Price declined to elaborate on Sullivan's discussions when pressed by reporters during a daily press briefing.
— Amanda Macias
WHO's European countries say Moscow office should be moved
Members of the World Health Organization's European region have condemned Russia's war in Ukraine, which could result in moving one of the agency's offices out of Russia and suspending all meetings there until Moscow pulls its troops out of Ukraine.
In a statement after a resolution passed on Tuesday, countries in the WHO's European region said they were "highly concerned" over the situation in Ukraine that was "triggered by the unprovoked and unjustified military aggression by the Russian Federation against Ukraine." More than 40 countries, including France, Germany, Italy, Sweden and the U.K., voted in favor of the statement, while Russia, Belarus and Tajikistan voted against it.
The resolution said the WHO should do "whatever is possible to support the government in Ukraine" and to consider the possible relocation of the United Nations health agency's Moscow-based European Office for the Prevention and Control of Non-communicable Diseases to another country. It also asked the WHO's European director to consider temporarily suspending all meetings in Russia until the country withdraws its military forces from Ukraine.
To date, the WHO has confirmed more than 200 attacks on health facilities and first responders in Ukraine, resulting in at least 75 deaths.
— Associated Press
Pentagon says Russian forces have used several hypersonic weapons
The nation's highest military officer told lawmakers that Russian forces have debuted hypersonic weapons in their war against Ukraine.
Chairman of the Joint Chiefs of Staff U.S. Army Gen. Mark Milley said Russia's use of hypersonic arms against Ukraine may be the first known combat use of the weapon system. A hypersonic weapon is a missile that travels at Mach 5 or higher, which is at least five times faster than the speed of sound. A hypersonic weapon can travel about one mile per second.
"To my knowledge, it's the first time in a combat situation," Milley said alongside U.S. Secretary of Defense Lloyd Austin before the House Appropriations Subcommittee on Defense. Austin and Milley said Russia's use of the weapon had little strategic value.
"Russia has used several hypersonics," Austin said. "Other than the speed of the weapon, we are not seeing significant or game-changing effects," he added.
— Amanda Macias
Medical workers evacuate patients into a specially equipped train
Medical workers evacuate patients into a specially equipped train to safely transport wounded people from war-affected areas of eastern Ukraine, amid Russia's invasion of the country, in Dnipro.
The train for medical evacuation is operated by Doctors Without Borders, or Médecins Sans Frontières, and Ukraine's Ministry of Health and National Railways.
— Gleb Garanich | Reuters
U.S. military has committed $3.8 billion since Russia's invasion of Ukraine
The U.S. has committed more than $4.5 billion in security assistance to Ukraine since the beginning of the Biden administration, according to figures provided by the Pentagon.
The latest military aid package, the ninth security assistance installment, brings the U.S. military aid commitment to $3.8 billion since Moscow invaded its neighbor in late February.
Here's a look at U.S. security assistance committed to Ukraine:
Over 1,400 Stinger anti-aircraft systems
Over 5,500 Javelin anti-armor systems
Over 14,000 other anti-armor systems
Over 700 Switchblade tactical drones
90 155mm Howitzers
Over 200,000 155mm artillery rounds
72 Tactical Vehicles to tow 155mm Howitzers
16 Mi-17 helicopters
Hundreds of armored multipurpose vehicles
200 M113 armored personnel carriers
More than 7,000 small arms
More than 50,000,000 rounds of ammunition
75,000 sets of body armor and helmets
121 Phoenix Ghost tactical drones
Laser-guided rocket systems
Puma unmanned aerial systems
Unmanned coastal defense vessels
17 counter-artillery radars
Four counter-mortar radars
Two air surveillance radars
M18A1 Claymore anti-personnel munitions
C-4 explosives and demolition equipment for obstacle clearing
Tactical secure communications systems
Night vision devices, thermal imagery systems, optics and laser rangefinders
Commercial satellite imagery services
Explosive ordnance disposal protective gear
Chemical, biological, radiological and nuclear protective equipment
Medical supplies to include first aid kits
Electronic jamming equipment
Field equipment and spare parts
Read more about the weapon systems here.
— Amanda Macias
Inside a Ukraine hospital where medics work as rockets fall in Donetsk region
Editor's Note: Images depict wounded soldiers in Donetsk region.
The hospital in the small Ukrainian town of Bakhmut was never intended to receive queues of ambulances bringing the wounded and traumatised from the front line of Europe's biggest battlefield. Nor did the volunteer paramedics expect, four months ago, to be shuttling back and forth to the front line of a brutal tank battle, within earshot of rockets and shelling.
The hospital's main job now is to "stabilize" the injured from the battle zone around the town of Popasna in the Luhansk region so that they can be moved on to bigger hospitals in western Ukraine, farther from the main battle.
The sheer scale of a front line that stretches for hundreds of miles has stretched Ukraine's resources to the limit. Some of the ambulances arriving at the hospital are second-hand German or Polish ones.
Jorge Silva | Reuters
Top EU official supports trillion-dollar 'Marshall-style plan' to rebuild Ukraine
Werner Hoyer, a top EU finance leader and president of the European Investment Bank, has voiced his support for a multi-trillion dollar plan to rebuild Ukraine, saying it must be an international effort.
"What will it cost to rebuild, reconstruct Ukraine? Figures were flying around the room ... but one thing is quite clear to me: We are not talking about millions but trillions," Hoyer was quoted by Reuters as saying. He added that Europe cannot be alone in this effort, and referenced the post-World War Two Marshall Plan that saw the U.S. grant Europe the current equivalent of roughly $200 billion in aid to rebuild itself.
Hoyer said that Ukraine would need something similar, and that the cost of such an endeavor had been discussed at the International Monetary Fund, the UN and the World Bank. Ukraine's finance officials say they expect its economy to shrink by half this year. The UN estimates that roughly 6 million people of the country's population of 44 million had fled since Russia's invasion began on February 24.
A key part of the plan, Hoyer said, would be for major state-backed banks in Europe and the U.S. to provide guarantees underwriting Ukraine's government once the war is over.
"It's a challenge for the entire free world to make sure that this (support) will be provided," Hoyer said. "The political leaders must make up their mind as soon as possible, but I think we need a structure that is really targeting a global audience and not just the taxpayers in the European Union."
— Natasha Turak
U.S. DOD Secretary tells Congress Russia's nuclear powers pose ongoing threat
U.S. Defense Secretary Lloyd Austin told lawmakers that Russia remains an "acute threat" to national and global security "requiring close and sustained coordination across the NATO alliance to prevent further aggression in Europe."
Russian President Vladimir Putin's unprovoked invasion of Ukraine poses a "huge challenge to transatlantic security," Austin said in testifying on the DOD's $773 billion budget request for the next fiscal year, which begins Oct. 1. He's testifying alongside Pentagon CFO Michael McCord, and Army Gen. Mark A. Milley, chairman of the Joint Chiefs of Staff.
"Russia's nuclear capabilities also pose significant challenges now and in the future," Austin said.
— Dawn Kopecki
Images show injured Ukrainian servicemen inside the Azovstal iron and steel works factory in eastern Mariupol
Images show injured Ukrainian servicemen inside the Azovstal iron and steel works factory in eastern Mariupol.
EDITOR'S NOTE- Graphic Content: Images show wounded Ukrainian Servicemen in Mariupol
-Dmytro 'Orest' Kozatskyi | AFP | Getty Images
Pro-Russian leader installed in Ukraine's Kherson will ask Putin to annex it
The pro-Russian leader installed in Ukrainian's southern city of Kherson, the first city to have fallen fully under Russian control, says he will request that Putin annex the territory for Russia.
"There will be a request to make Kherson region a full subject of the Russian Federation," said Kirill Stremousov, the newly-appointed deputy head of the military-civilian administration in Kherson, according to Russian news agencies. He added that Kherson will be entirely under Russian law by the end of this year.
Kremlin spokesperson Dmitry Peskov responded by saying that it was up to Kherson's residents to decide whether they would join Russia. But Ukrainian and Western officials warn that Moscow is planning to hold a sham referendum there to justify Russian rule.
Kherson is a strategically important capture for Moscow as it provides a land link between Russian separatist-backed territories in eastern Ukraine's Luhansk and Donetsk and Crimea to the south, which it annexed in 2014.
— Natasha Turak
UN says 3,469 killed in Ukraine since start of war, warns death toll is likely higher
The United Nations has confirmed 3,469 civilian deaths, including at least 238 children, in Ukraine since Russia invaded its ex-Soviet neighbor on Feb. 24.
The agency also reported 3,760 civilian injuries in the conflict so far.
The Office of the U.N. High Commissioner for Human Rights said the death toll in Ukraine is likely higher, because the armed conflict can delay reports.
The international body said most of the civilian casualties recorded were caused by the use of explosive weapons with a wide impact area, including shelling from heavy artillery and multiple launch rocket systems, as well as missiles and airstrikes.
— Amanda Macias
Boris Johnson signs security declaration with Sweden
U.K. Prime Minister Boris Johnson signed a security declaration with Sweden, pledging to support the Nordic country if it comes under military attack. The security pact can also mean intelligence sharing or joint military drills, Johnson said.
"The declaration makes clear, it's upon request of Sweden that the U.K. will of course provide assistance," the U.K. leader said. "What matters primarily is what Sweden decides to request."
The news comes as Sweden and Finland, the latter of which borders Russia, are set to make their decisions on whether to apply for membership to the NATO alliance, breaking a long-held position of neutrality when it comes to the alliance and Russia. Moscow has threatened consequences if the countries were to join NATO.
Public support for joining the defensive alliance in both Sweden and Finland has soared following Russia's invasion of Ukraine.
Speaking in Sweden alongside Swedish Prime Minister Magdalena Andersson, Johnson stressed the rights of sovereign countries to chart their own courses of action.
"The war in Ukraine is forcing us all to make difficult decisions, but sovereign nations must be free to make those decisions without fear or influence or threat of retaliation," he said. Johnson is scheduled to visit Finland as well to sign a similar security agreement.
— Natasha Turak
UN chief does not see Ukraine peace negotiations in the near future
U.N. Secretary-General Antonio Guterres does not foresee Ukraine peace negotiations happening soon, he told a press conference.
"This war will not last forever. There will be a time when peace negotiations will take place," Guterres said, speaking alongside Austrian President Alexander Van der Bellen.
"I do not see that in the immediate future. But I can say one thing. We will never give up," he added.
Guterres has traveled to both Moscow and Kyiv following criticism that the U.N. was not taking an active role in mediating the conflict that began in late February. He has held talks with both Ukrainian President Zelenskyy and Russian leader Vladimir Putin, and has stressed to Putin the need for dedicated humanitarian corridors in areas of heavy Russian shelling in Ukraine.
Guterres visited Russia before visiting Ukraine, a move that was met with frustration and disappointment from many Ukrainians.
— Natasha Turak
Ukraine's forces are gradually pushing Russians back from Kharkiv, officials say
Ukrainian forces are recapturing territory in the region surrounding Kharkiv, Ukraine's second-largest city which is located near the northeastern border with Russia, according to Ukrainian officials.
Ukrainian forces have managed to recapture four settlements north of Kharkiv, a press officer with the main Ukrainian force in the area said Tuesday, while Ukraine's President Volodymyr Zelenskyy said in his nightly address that Russian forces are "gradually being pushed back from Kharkiv."
"I am grateful to all our defenders who are holding the line and demonstrating truly superhuman strength to drive out the army of invaders," Zelenskyy said. But he added: "I also want to urge all our people, and especially those in the rear, not to spread excessive emotions. We shouldn't create an atmosphere of specific moral pressure, when certain victories are expected weekly and even daily."
Meanwhile, on Wednesday, a spokesman for Ukraine's armed forces said in a Facebook update that Russian forces were trying to prevent Ukrainian troops from moving further toward the border in the Kharkiv region and trying to fully capture the town of Rubizhne.
"The occupiers continue to focus their efforts on preventing the further advance of our troops towards the state border of Ukraine, conducting reconnaissance units of the Defence Forces north and north-east of the city of Kharkiv," the spokesman noted.
— Holly Ellyatt
Ukraine's Eurovision lifts spirits and wins public affection
Ukraine's entry in the annual Eurovision song contest this year is one of the favorites to win the competition amid a swell of global sympathy for the country after Russia's invasion.
Ukrainians celebrated last night as the Kalush Orchestra, a folk-rap band that's Ukraine's entry for Eurovision, qualified for the final taking place in Turin, Italy, on Saturday night.
The band's song, "Stefania," has had mixed reviews from critics, but most say that doesn't really matter this year.
With Eurovision's global audience of millions of people (in 2016, the show's semi-final and final drew 204 million viewers, according to its broadcaster, the European Broadcast Union) set to watch the contest, much of the global public is likely to vote for Ukraine if only to show support and solidarity for the country.
— Holly Ellyatt
Fighting at 'Snake Island' could determine who controls chunk of Black Sea, UK says
Fighting continues at Zmiinyi Island, also known as "Snake Island," with Russia repeatedly trying to reinforce its exposed garrison there, according to the British Ministry of Defence in its latest intelligence update.
"If Russia consolidates its position on Zmiinyi Island with strategic air defence and coastal defence cruise missiles, they could dominate the north-western Black Sea," the ministry said on Twitter this morning.
"Russia's current efforts to augment its forces on Zmiinyi Island offer Ukraine more opportunities to engage Russian troops and attrit materiel," the ministry added, saying Ukraine has successfully struck Russian air defenses and resupply vessels with Bayraktar drones.
In addition, the ministry noted that Russia's resupply vessels have minimum protection in the western Black Sea, following the Russian Navy's retreat to Crimea after the loss of the Moskva, the flagship of Russia's Black Sea Fleet.
— Holly Ellyatt
Ukraine gas operator to stop transporting almost a third of Russian gas to Europe
Ukraine's gas transmission operator says it will stop transporting almost a third of Russian gas to Europe.
Moscow's invasion has rendered the operator unable "to carry out operational and technological control" of its facilities to ensure their stability and safety, particularly in Russian-controlled territory such as the Luhansk region, Gas TSO of Ukraine said.
In a statement, GTSOU said it would stop transporting gas through its Novopskov hub from 7 a.m. on Wednesday. Almost a third of the natural gas coming from Russia to Europe (up to 32.6 million cubic meters per day) is transited through the hub.
The company claimed force majeure, which are unforeseeable circumstances that prevent someone from fulfilling a contract.  
GTSOU also said it is possible to temporarily reroute gas to another crossing in Ukrainian-controlled territory, but said Russia's state-controlled gas giant Gazprom has ignored appeals to do so.
"The company repeatedly informed Gazprom about gas transit threats due to the actions of the Russian-controlled occupation forces and stressed stopping interference in the operation of the facilities, but these appeals were ignored," GTSOU said.
Sergei Kupriyanov, a spokesman for Gazprom, said Ukraine's request would be "technologically impossible" and that the company sees no grounds for the decision, the Associated Press reported.
— Chelsea Ong
U.S. House passes $40 billion aid package to Ukraine
The U.S. House passed a bill that's set to deliver $40 billion in military and humanitarian aid to Ukraine, according to a NBC News report.
The House voted 368-57 after President Joe Biden urged quick congressional action in stepping up support for Kyiv in its war against Russia, the report said.
All 57 no votes came from Republicans, according to NBC News.
Rep. Andy Biggs, R-Ariz., who opposed the measure, tweeted: "I oppose Russia's invasion of Ukraine, but we can't help Ukraine by spending money we don't have."
House Speaker Nancy Pelosi, D-Calif., praised the largely bipartisan vote, saying on Twitter that the package would build "on robust support already secured by Congress" and "help Ukraine defend not only its nation but democracy for the world."
— Weizhen Tan
U.S. has committed more than $4.5 billion to Ukraine since Biden became president
The U.S. has committed more than $4.5 billion in security assistance to Ukraine since the beginning of the Biden administration.
Of that amount, about $3.8 billion has been used to aid Ukraine since Russia's invasion of the country on Feb. 24.
Last week, the U.S. Department of Defense authorized the ninth drawdown of equipment from its inventories for Ukraine since August 2021, worth an additional $150 million.
U.S. President Joe Biden last month asked Congress to allocate $33 billion to fund humanitarian and military aid to Ukraine, after exhausting his remaining drawdown authority.
— Chelsea Ong
Russian forces are at least two weeks behind schedule in Donbas goals, U.S. Defense official says
The Pentagon said Russian forces are about two weeks behind schedule in their assault of the Donbas in eastern Ukraine.
Russian President Vladimir Putin "has not achieved any of the success that we believe he wanted to achieve, certainly not on a timeline," a senior U.S. Defense official said on a call with reporters.
The official, who declined to be named per ground rules established by the Pentagon, said that the U.S. assesses Putin's forces are "easily two weeks or even maybe more behind."
"We would not assess that the Russians have made any appreciable or significant progress," the official added.
— Amanda Macias
US spy chief says Putin is preparing for prolonged war
The United States believes that Russian President Vladimir Putin is preparing for a long conflict in Ukraine, and a Russian victory in the Donbas in the east of the country might not end the war, U.S. Director of National Intelligence Avril Haines said.
"We assess President Putin is preparing for a prolonged conflict in Ukraine, during which he still intends to achieve goals beyond the Donbas," Haines told lawmakers.
She added that Putin was counting on the Western resolve to weaken over time.
— Reuters
Read CNBC's previous live coverage here:
Ukraine economy predicted to contract 30%; missiles hit major port city of Odesa
Copyright CNBCs - CNBC