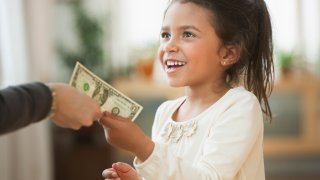 April is Financial Literacy Month and two lessons are coming through clearly: Americans, especially children, benefit from early financial education, and the education system needs to radically transform the way it teaches students about money and finance.
Business leaders who recently spoke with CNBC Invest in You say building wealth starts with better education. Serial entrepreneur Gary Vaynerchuk explains how society has misguided a generation of Americans on what it means to be successful. Mika Brzezinski makes the case as to why financial learning should be a bedrock of education, and Marc Morial encourages family members to let down their guard and talk about money with each other.
The old adage, "knowledge is power" has never been more true. Financial literacy can be among the keys to success and economic freedom.
"We have a macro system that forces many of them (students) to go into debt for higher education," says Gary Vaynerchuk, Vayner X Chairman and CEO of VaynerMedia.
The New York Times best-selling author believes that too many students from a young age are told there is only one route to financial success: do good in school, go to college and get a job. However, a vast majority of students need to take out high-interest loans in order to afford tuition.
A recent survey conducted by The Harris Poll of 1,000 adults ages 33 to 40 found that respondents took out an average of $21,880 in student loans for their education.
A Junior Achievement survey revealed that 46% of teens said a general lack of understanding of money, investing and the economy negatively impact their ability to be financially successful.
A champion of gender equality, Mika Brzezinski knows what it takes to be successful. She's spoken extensively on the topic and is also the author of The New York Times best-sellers "All Things at Once," "Know Your Value" and "Obsessed."
Brzezinski says financial education is fundamental to success: "You've gotta be able to do the math immediately, in your head even."
The creator of Know Your Value, a movement meant to empower women and help them express their worth, she says financial literacy courses need to start early in life for both boys and girls.
More from Invest in You:
These resources can help you teach your kids about money
Young investors are betting on stocks. Here's what to know before jumping in
Josh Brown: How you can double your money in the stock market
Marc Morial, the president and CEO of the National Urban League, wants multi-generational families to start talking about money more.
"Oftentimes, we're too guarded, oftentimes, too closed about financial issues and money issues," says Morial.
Emotions are often tied to finances, thus making it hard to talk about. But experts point to resources that are available and can facilitate conversations. The Council for Economic Education aims to make learning fun with its Family-At-Home Financial Fun Pack. The nonprofit personal finance organization Next Gen Personal Finance also has free online games and activities on topics like investing and budgeting, and the National Endowment for Financial Education has free online courses, learning activities and quizzes.
Only 21 states mandate personal finance coursework, with just a handful — Alabama, Missouri, Tennessee, Utah and Virginia — requiring a standalone course for high school graduation in 2021. However, 25 states (and the District of Columbia) have introduced legislation this year to increase access to financial education.
Nan Morrison, the president and CEO of the Council for Economic Education, points to the data showing that students who benefit the most from financial education are students from low-income communities. "We know that when you get financial education, in particular to kids from low and moderate-income communities, it makes a big difference in their savings behavior, in how they finance their education."
Tom Farley, former president of the New York Stock Exchange, doesn't want to stop at basic financial education. Farley wants to extend education on topics like entrepreneurship and starting a career.
From a young age, Farley says he was "pushed out the door" by his parents to go find work and earn money.
Just how early should we start teaching children about money? During his time at the NYSE, a financial literacy program was funded to teach students as young as first grade.
SIGN UP: Money 101 is an 8-week learning course to financial freedom, delivered weekly to your inbox.
CHECK OUT: How Americans used the third $1,400 stimulus checks compared to the first two, and what that shows via Grow with Acorns+CNBC via Grow with Acorns+CNBC.
Disclosure: NBCUniversal and Comcast Ventures are investors in Acorns.
Copyright CNBCs - CNBC