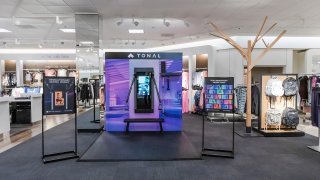 Nordstrom has struck a deal with Tonal, a company that sells a wall-mounted workout station for $2,995.
The department store retailer is bringing 40 mini Tonal shops into its stores beginning this month to showcase Tonal products and stir up interest around the brand.
The tie-up comes as Nordstrom is plotting growth for its active business and is dedicating more space in its stores for athletic apparel and other fitness accessories.
Nordstrom is searching for ways to grow its active business, while it adds more merchandise to its stores beyond dresses, shoes, handbags and makeup.
It has found a new partner in Tonal, a company that sells a wall-mounted workout station for $2,995.
The department store chain announced Monday that it will be adding 40 mini Tonal shops to its stores, with the rollout beginning this month. The 50-square-foot shops will be located in Nordstrom's active department next to workout apparel and other fitness accessories. Customers will be able to demo the Tonal device and speak with a Tonal employee.
For Tonal, the partnership will expand the fitness equipment maker's reach to new customers at a time when many Americans have been investing in high-tech devices to enhance their at-home workouts during the pandemic. The company has just 16 brick-and-mortar locations — six of its own stores and 10 "shop in shops" with other business partners.
Nordstrom, meantime, hopes to become a top destination for active gear and to give shoppers more reasons to visit its stores. Many of them are in malls that have been frequented less during the health crisis.
"Ironically or not, at-home fitness is becoming somewhat of an experiential draw to bring people out of their homes and into the store," BMO Capital Markets analyst Simeon Siegel said.
Seattle-based Nordstrom has previously said it plans to increase the amount of space devoted to active apparel and wellness products. It added a dedicated Active page to its website in December, as it saw more people browsing yoga mats and sweatpants from home. And it's adding over 75 new active brands — specializing in categories like hiking, tennis and golf — online and in stores this year.
"We continue to prioritize being that place of discovery," said Lori Marten, a merchandise manager for Nordstrom's active category.
"We're often considered the partner of choice in regards to working with brands, physically and digitally," she said. "So it was a pretty seamless opportunity across the board — one that really helps us build our authority and authenticity in a space that we are aggressively growing."
Marten said talks between Nordstrom and Tonal began in November in the thick of the holiday season, and quickly developed. The partnership is a long-term agreement, not a pop-up, she said. In the past, Nordstrom has dedicated space in its stores temporarily to brands like luggage maker Away and beauty business Glossier in a bid to lure younger customers.
Christopher Stadler, Tonal's chief marketing officer, said the fitness maker spoke with other potential retail partners, but Nordstrom came out on top. The typical Nordstrom shopper and Tonal's target customer are closely aligned, he said, pointing to factors like age, income and type of employment.
"There's a segment of our customer base that wants to touch and feel and experience digital weights," Stadler said. "We want to create more points of distribution and physical touch points."
Tonal, whose backers include Amazon's Alexa Fund and NBA star Stephen Curry, fits into a hotly contested at-home fitness market, which includes other device makers like Peloton, Hydrow and Mirror. The latter was acquired by Lululemon for $500 million last year and is on display in several Lululemon stores. Hydrow signed a deal with the athletic apparel brand Fabletics last year to display its rowing machines in several Fabletic's stores and on its website.
"This super-charges Tonal's physical presence in a month," BMO's Siegel said. "And without needing to lay down physical infrastructure."
As it makes a bet on Tonal's success, Nordstrom says it will continue to bulk up its active department, buying more fitness and outdoor products like snow helmets, ski goggles, massaging devices and jump ropes. Not just apparel and sneakers.
Nordstrom is set to report its fiscal fourth-quarter earnings after the market closes Tuesday. Previously it estimated its revenue will rise more than 25% in fiscal 2021 as it laps a period when its brick-and-mortar stores were closed for two quarters due to Covid restrictions in the spring. Nordstrom also expects roughly half of its sales this year will stem from its digital business. Last year, the chain rang up about a third of its sales online.
Longer term, Nordstrom expects sales to grow at a low single-digit pace annually from 2019 levels. That year, Nordstrom reported net sales of $15.1 billion, marking a 2.2% decline from the prior year.
Analysts and investors will be looking for any clues into how demand for apparel is rebounding, and how comfortable shoppers feel in its stores.
Nordstrom shares are about flat over the past 12 months. The retailer has a market cap of $5.7 billion, which is smaller than Kohl's $8.6 billion but bigger than Macy's $4.7 billion.
To date, this is where Nordstrom plans to open the mini Tonal shops:
Scottsdale Fashion Square (Scottsdale, Ariz.)
San Francisco Centre (San Francisco)
Fashion Island (Newport Beach, Calif.)
Santa Monica Place (Santa Monica, Calif.)
Thousand Oaks (Thousand Oaks, Calif.)
Century City (Los Angeles)
South Coast Plaza (Costa Mesa, Calif.)
The Americana at Brand (Glendale, Calif.)
La Jolla at UTC (San Diego)
Broadway Plaza (Walnut Creek, Calif.)
The Village at Corte Madera (Corte Madera, Calif.)
Westfarms (Farmington, Conn.)
The SoNo Collection (Norwalk, Conn.)
International Plaza (Tampa, Fla.)
Aventura (Miami)
Boca Raton Town Center (Boca Raton, Fla.)
The Shops at Merrick Park (Coral Gables, Fla.)
The Gardens (Palm Beach Gardens, Fla.)
Phipps Plaza (Atlanta, Ga.)
Oakbrook Center (Oak Brook, Ill.)
Michigan Avenue (Chicago)
Montgomery Mall (Bethesda, Md.)
Natick Mall (Natick, Mass.)
Somerset Collection (Troy, Mich.)
Mall of America (Minneapolis, Minn.)
Saint Louis Galleria (St. Louis)
The Mall at Short Hills (Short Hills, N.J.)
Garden State Plaza (Paramus, N.J.)
The Westchester (White Plains, N.Y.)
SouthPark (Charlotte, N.C.)
Easton Town Center (Columbus, Ohio)
Washington Square (Tigard, Ore.)
The Plaza at King of Prussia (King of Prussia, Pa.)
Northpark (Dallas)
Galleria Dallas (Dallas)
The Shops at La Cantera (San Antonio)
Domain Northside (Austin, Texas)
Tysons Corner Center (Tysons, Va.)
Downtown Seattle (Seattle)
Copyright CNBCs - CNBC