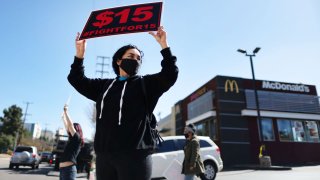 It looks like the federal minimum wage won't be increased anytime soon — news that will hit women harder than men.
Senate Democrats are dropping the $15 minimum wage provision from the latest $1.9 trillion stimulus package after the Senate parliamentarian last week decided that the policy couldn't be passed through a sped-up process called budget reconciliation.
Some Democrats — including Sen. Bernie Sanders, the Vermont independent — had proposed penalizing corporations that didn't pay their employees at least $15  per hour. Others voiced their support for Vice President Kamala Harris to overrule the parliamentarian and attempt to pass the bill through budget reconciliation — something that would have been difficult to do, as not all 50 Senate Democrats were in favor of the raised minimum wage.
More from Invest in You:
Smallest businesses getting extra PPP help. What to know before applying
Black small-business owners are being left behind in pandemic, survey finds
Black leaders offer several key steps to help close racial wealth gap
Sanders announced on Monday he'd introduce an amendment to include a $15 minimum wage in the reconciliation bill — but it's unclear if it will be included in the legislation as it goes forward. Lawmakers are racing to pass the stimulus package before March 14, when unemployment benefits lapse for millions of workers.
"My own personal view is that the Senate should ignore the parliamentarian's advice, which is wrong in a number of respects," said Sanders in a Monday statement. "I am not sure, however, that my view at this point is the majority view in the Democratic Caucus."
Raising the federal minimum wage to $15 an hour by 2025 — the proposal that was included in the latest stimulus bill — would have boosted pay for some 32 million workers across the U.S. according to analysis from the left-leaning Economic Policy Institute and the National Employment Law Project.
Of those, nearly 60%, or 19 million workers, are women, according to the same analyses.  
"Women are really feeling the effects of this coronavirus pandemic," said Diana Boesch, a policy analyst for women's economic security at the Center for American Progress, a liberal think tank.
Tipped workers would benefit
The federal minimum wage, currently $7.25 an hour, has not been increased since 2009, the longest the country has ever gone without a boost to the federal pay standard. In addition, the minimum wage commonly used in restaurants for workers who are tipped is $2.13 an hour. Some workers with disabilities are also subject to the $2.13 an hour minimum wage.
The provision that was included in the latest stimulus package would have both raised the federal minimum wage to $15 over time and eliminated the tipped minimum wage altogether.
This would also mostly impact women — who make up 66% of workers who make the tipped minimum wage — and especially women of color, according to Saru Jayaraman, president of One Fair Wage.
"It is a majority female workforce, disproportionately women of color, struggling to make ends meet," she said on a Monday call with reporters, referring to workers who are most subject to the tipped minimum wage.
That women make up most workers currently earning minimum wage is due mostly to occupational segregation and under-valuing women's work, according to Boesch.
Women have also been harder hit than man during the coronavirus pandemic. They've lost the majority of jobs, have dropped out of the labor force and are disproportionately represented in the most devastated industries.
They're also a key piece of the economic recovery. Women, especially those who are breadwinning mothers, generally put any increase in wages back into the economy. That spending, often on basic necessities to support families, is incredibly important to spur economic growth, Boesch said.
"To effectively recover from the pandemic, we need to make sure that our policies are targeted to support women," Boesch said. "That includes raising the wage."
What happens next
All hope for a boosted minimum wage is not lost, just less likely. This year, in tandem with including increasing the federal minimum wage in a Covid relief package, the House of Representatives reintroduced the Raise the Wage Act. As with Biden's original stimulus plans, the act would raise the federal minimum wage to $15 per hour by 2025 and eliminate the tipped minimum wage.
Democrats could push this legislation forward, or potentially include the provision to raise the federal minimum wage in another bill later.
Still, there are considerable roadblocks to attempting to pass raising the minimum wage outside of budget reconciliation, which requires a simple majority of 50 Democrats, with Harris casting the tie-breaking vote. Outside of budget reconciliation, the act will require a supermajority of 60 votes to pass the Senate.
That means that to pass the legislation, Democrats would need to get 10 Republicans on board.
SIGN UP: Money 101 is an 8-week learning course to financial freedom, delivered weekly to your inbox.
CHECK OUT: Here's the credit score you need to buy a home via Grow with Acorns+CNBC.
Disclosure: NBCUniversal and Comcast Ventures are investors in Acorns.
Copyright CNBCs - CNBC