There's no need to go nuts over a Nutella shortage, the makers of the chocolate and hazelnut spread confirmed.
The Ferrero Group, the company that makes Nutella, purchases its hazelnuts from Turkey, the chief producer of hazelnuts. But last spring's freeze destroyed a large portion of the hazelnut crop in Turkey, sending hazelnut prices up by 60 percent, according to NBC News, their highest levels in 10 years.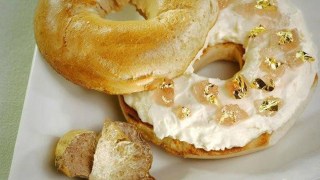 Wild Food Crazes: The $1,000 Bagel
Though a number of media outlets raised concerns that a Nutella shortage or a price increase was imminent, Ferrero said the availability of Nutella won't change.
"We are tracking this issue closely and there's no foreseeable impact on the availability of Nutella," a spokesperson for Ferrero USA said in a statement to NBC on Tuesday, adding, "as always, we will maintain the high quality of the Nutella product that consumers know and love."

Ferrero has no comment on any changes to the price of Nutella as a result of the hazelnut shortage.
Published at 8:50 AM EDT on Aug 20, 2014 | Updated at 10:30 AM EDT on Aug 20, 2014