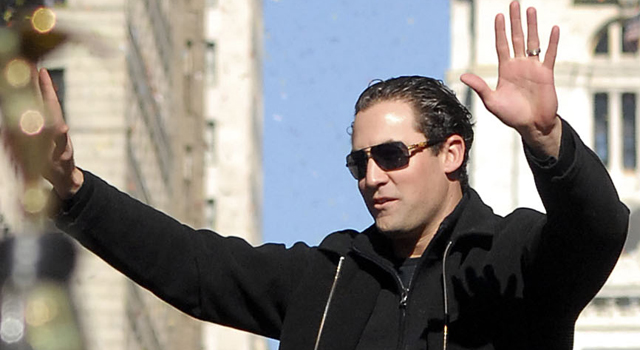 Hey, you! Yes, you! Tired of living in your old apartment? Does the sound of your neighbors hitting each other with cricket bats keep you up at night? Are you sick of opening your oven and finding nothing but nutria licking off grease stains? Well, have I got news for you.
For a mere THREE MILLION DOLLARS, you could own the former apartment of current Giant and former Phillie Pat Burrell. Yes, that's right! PAT THE BAT'S PAD! Just look at these luxury amenities highlighted out by the Philly Real Estate blog. This ain't no fixer-upper.
The Lanesborough is an expression of the best of everything. A personal statement by each owner of exactly how he or she wants to live.
That statement? I AM FILTHY RICH AND I AM ALSO SINGLE WOULD YOU LIKE TO COME UP FOR A NIGHTCAP?
Pat the Bat's Penthouse unit is a 3-bedroom 3/1-bath listed at 4,327 square feet.
More than 4,000 square feet! I could fit my entire llama collection inside and still have room for hanky panky!
Dual spiral staircases leading to separate in home dual workspaces.
Dual staircases! JUST LIKE ON THE OSCAR STAGE.
Top of the line kitchen with Sub Zero & Wolf stainless steel appliances and black granite counters.
Because when you need to store and reheat takeout, there no are finer brands than Wolf and Sub Zero for all your culinary needs.
Floating stairs guide you to the master suite with custom bed, oversized shower and Jacuzzi tub.
Swim at your own rish in that Jacuzzi.
Separate laundry room.
TRUE STORY: I once lived in an apartment building with a laundry room in the basement, and every time I went to that laundry room, I thought someone would leap out from behind the water heater and murder me. Your own laundry room is clutch.
So what are you waiting for? What do you mean, you can't afford it? What do you mean, it's depressing to know that there are ludicrously opulent apartments like this out there that you'll never be able to afford? MAYBE YOU JUST DON'T WANT IT ENOUGH. Maybe you lack the chutzpah to take out an obscene loan and live the rest of your life under a mountain of debt. YOU ARE NOT WORTHY OF PAT'S JACUZZI.