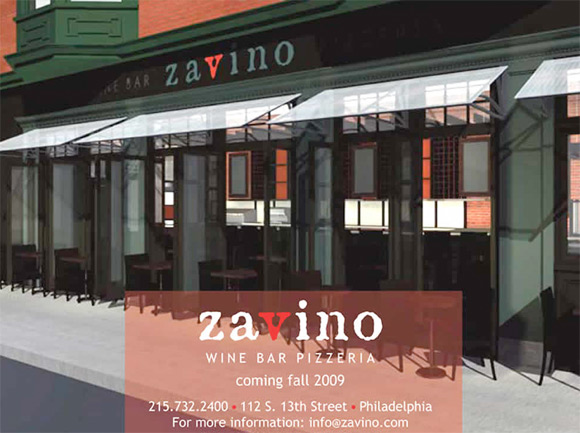 Boasting a prime spot on 13th Street, Zavino Wine Bar Pizzeria plans to make its debut on the south side of Philly in October.
With toppings like veal mini-meatballs, thinly sliced artichokes, buffalo mozzarella and pecorino Romano cheese -- not altogether, of course, our mouths are watering at the prospect.
The Illadelph has even put out a "Sexy Alert" on the upcoming Italian pizza kitchen and wine bar at 112 South 13th Street.
What to expect? According to a press release from Zavino, "a seasonal menu, classic cocktails, an approachable selection of wine and beer, and the area's best late-night menu."
Menu items will range in price from $3 to $20 for entrees; pizzas will vary in price from $5 to $12.
Ah, the pizzas... Chef-partner Steve Gonzalez says Zavino's pizzas, baked in "a special wood-burning oven that reaches temperatures of up to 900 degrees" will have a crust that's not too thin or too thick.
"...It will be somewhere right -- between Neapolitan and Sicilian, crunchy, and tender, and just exactly right," he says.
(Where's Goldlilocks when you need her?)
Either way, it promises to be, as Illadelph says, "a very solid addition to the neighborhood." We can't argue with that.