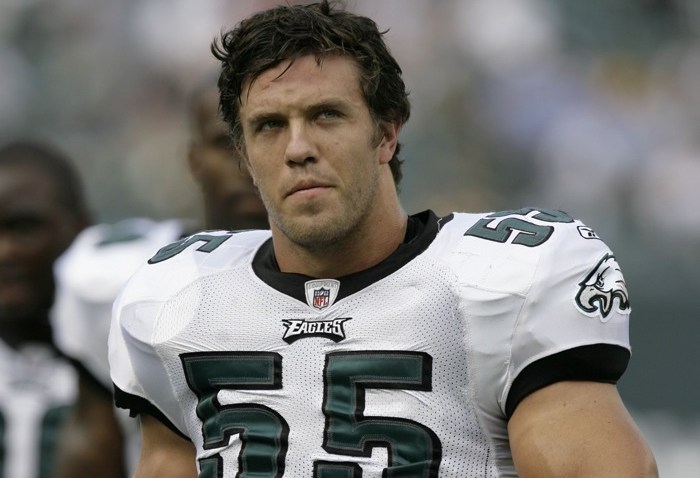 Two years ago Stewart Bradley was hailed as the next star on the Eagles defense. Then, in one fell swoop, he tore his ACL during 2009 Flight Night, ending his season before it began and crippling his future.
A few weeks back I mentioned Bradley in my post about the five Eagles most likely to lose their jobs. At the time, I still thought there was more than a 75 percent chance he would return for the 2011 season. But now, with reports indicating that unrestricted free agency will likely go back to four years of experience under the new collective bargaining agreement, that forecast looks optimistic.
Assuming the restricted free agent tender goes away (the Eagles tagged him at the second-round level), Bradley would have no reason to return to Philly. He can simply accept the largest deal on the open market. And I have a feeling that the biggest signing bonus won't be handed down by Joe Banner and company.
The Eagles, under Juan Castillo, will likely have a new defensive system that emphasizes speed, reacting to the ball and playing in space. The team has a host of young linebackers, three of whom were drafted specifically to play in this system. Bradley, on the other hand, seems like a relic from the post-Trotter years. He's certainly athletic, but with a bigger, downhill style.
It might be a good idea to keep a veteran in the middle of this defensive shift. There's enough youth all over to be worried about without looking for two new starters at linebacker. Not that the Eagles have put a big priority on consistency at the position though.
Bradley deserves another season to prove that he's all the way back from that knee injury. But I wonder if that chance will come in a different uniform. How much money and how many years are the Eagles going to offer to an oft-injured player blocking the development of younger linebackers who are a better fit?