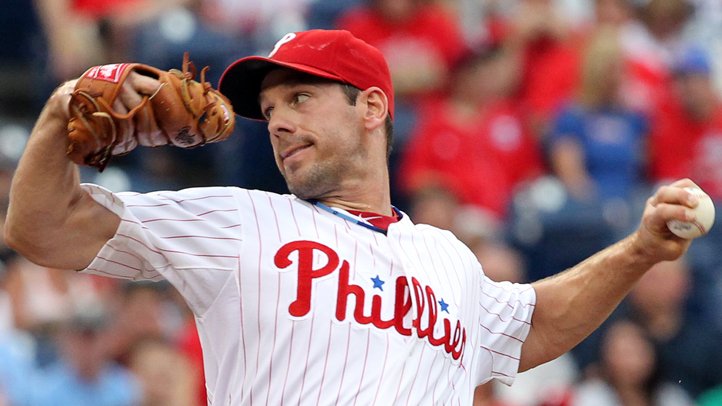 Well, it finally happened. Cliff Lee won a baseball game in 2012. It took the first half of the season and 14 starts, but the expensive, veteran left-handed pitcher tossed his losing ways aside and joined the club inhabited by such pitching luminaries as Kyle Kendrick, Vinnie Chulk, and Ross Ohlendorf.

But, you know what? You shouldn't care that Cliff Lee didn't have a win prior to July 4th. After all, Cliff doesn't. Via MLB.com's Todd Zolecki:
"I think you guys made a bigger deal about it than I did," Lee said. "I keep things simple. I try to give the team a chance to win every time. I would have loved to have had a win a long time ago, but to me it wasn't as big a deal as you guys wanted it to be for me."


What I take from this is that Cliff Lee is aware that he didn't have any wins heading into Wednesday's game, and that, he was okay with that. That's not to say that he was okay with losing, but that there are bigger things to worry about than whether or not he was credited with the win.

There is a big of a tug-and-war among casual sports fans, bloggers, and beat-writers about how much pitcher wins actually matter. To some, it is a perfectly legitimate statistic that indicates the true talent level of a pitcher, while others dismiss it as a meaningless number that has more to do with the proficiency of the offense and bullpen than that of the actual starting pitcher.

Me? I'm the latter. I've long hated that pitcher wins have been held in such high esteem for so long, precisely because they don't accurately convey just how good the pitcher is. In this case, Cliff Lee is the victim more of MLB rules governing how wins are determined than he is the victim of poor pitching.

To wit: In 14 starts this season, Cliff Lee has allowed three earned runs or fewer in eight of them. If he was given league average run support (4.24 runs per game) and if his bullpen didn't blow any leads, he shouldn't have lost any of those games. In fact, he should have had a win in all of those games.

To be fair, there were six other games in which he allowed four or more earned runs, and the recent four-game stretch where he had a 7.30 ERA didn't inspire any confidence in the Ace, but even the best pitchers hit bad streaks.

All told, Cliff Lee should have eight wins, four losses, and a pair of no-decisions for good measure. But baseball is a funny sport, and the winning pitcher isn't always deserving of that honor. That's why a guy can throw a no-hitter, but still take the loss, and conversely, why a guy can give up 10 runs in five innings but still get the win. It's not a fair system of evaluation, and it relies heavily on circumstances that are often out of the starting pitcher's control. Namely, his offense and his bullpen. If the offense can't score a lot of runs, a pitching gem is all for naught. Conversely, if a bullpen blows a late lead, then - poof - hello no decision.

The fact that Cliff Lee just won his first game is odd, but that's it. It doesn't mean anything, there is no big meaning behind it, it just means that he was on the losing end of some crap luck in the first few months of the season. So, can we all stop talking about it now?