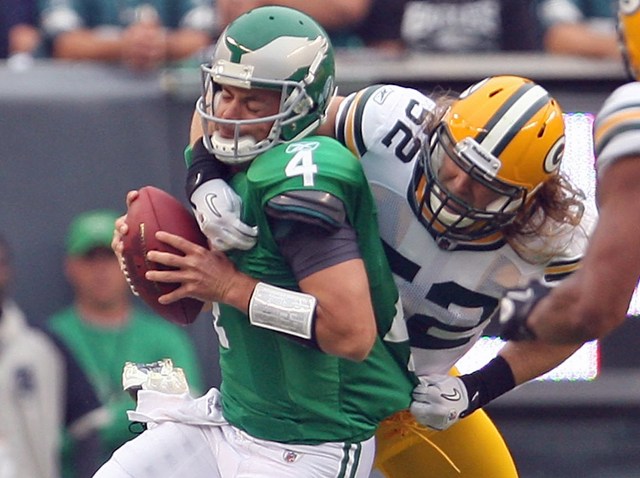 The general consensus coming out of Sunday's loss to the Green Bay Packers is that Kevin Kolb played terribly. Jeff McLane titled a story, "Yes, Kolb was that bad." Phil Sheridan wrote that Kolb "didn't look much like 'The Guy.'" Tommy Lawlor called the first game "a nightmare start." All over Philadelphia, reactionary fans are screaming for Michael Vick to take over.
The problem with this simple-minded analysis is that while everyone can agree that Kolb was less than stellar, no one puts forward any explanation beyond, "Kolb must be terrible." Even though there is an explanation, a very simple one.
The explanation starts way back on September 30, 2007 -- Week 4 against the New York Giants. That game was the Osi Umenyiora-Winston Justice debacle, in which the Eagles offensive line was so bad that it allowed 12 sacks of Donovan McNabb. How do you think Donovan played with that kind of pressure? He was awful, of course -- 15 for 31, 138 yards, and no touchdown or pass longer than 15 yards. Yet no one blamed McNabb for that game -- the offensive line allowed McNabb to be sacked on almost 28 percent of attempts, more than a quarter of the time.
Fast forward to Sunday. What happened to Kevin Kolb? Sure, his pre-concussion stats were bad -- 3 for 7, 17 yards. But how many sacks did his offensive line give up? Essentially three, if you count the half-yard "run" Kolb had in the second quarter when Clay Matthews slammed Kolb's head into the ground.
What does that mean? It means that until he was concussed, Kolb was sacked on 30 percent of his dropbacks. Almost one out of every three times Kolb went back to pass, his body ended up smashed by Packers defenders, as the Eagles offensive line looked on.
Go on, keep saying Kolb was terrible on Sunday. He certainly didn't do anything particularly redeeming. But how well would any quarterback play if every third time he dropped into the pocket he ended up on his back? How many completions would he have, knowing the Swiss cheese protection around him? How many first downs would he manage with his brains constantly battered?
We know McNabb couldn't overcome such overwhelming pressure. Why would Kolb be able to?