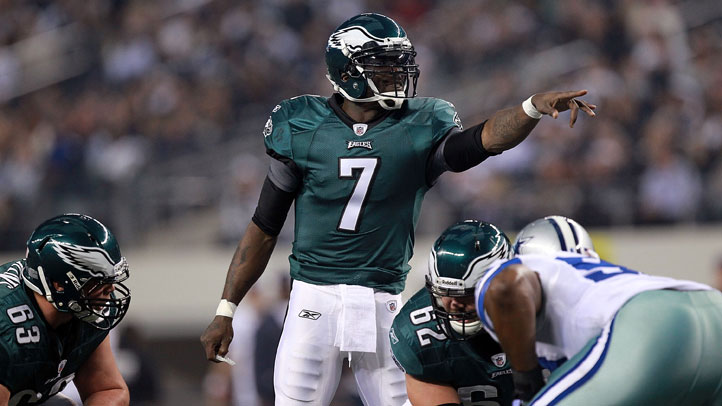 So about that franchise quarterback situation…

As Michael Vick struggled through the first half of the season, partly by his own doing but also a consequence of injuries at key positions and inconsistencies up and down the roster, calls for rookie Nick Foles intensified. It got to the point where there was even a Yahoo.com report that, after Vick suffered a concussion against the Cowboys, coach Andy Reid would stick with Foles for the rest of the season in the hopes that the third-round pick miraculously save the season -- and by extension, Reid's job.

Whether that was the plan or not, things went horribly wrong against the Redskins. Foles looked like, well, a rookie, and the Eagles looked like a team that had checked out weeks ago.

So now, with the season well out of hand and changes inevitable, what do the Eagles do with their quarterbacks?

Remember, they cut Mike Kafka before the season because Reid had confidence in Vick, Foles and veteran journeyman Trent Edwards. But Vick, who signed a $100 million contract before the 2011 season, has been erratic at best, and Foles showed Sunday that he's not quite ready to be a starter. That's not an indictment on his NFL future just the reality of life in this league. It's tough to have success, and some players need more time than others.

That's all well and good but this isn't high school, where a coach can allow players to develop while the team rebuilds. As the old saying goes, the NFL is a bottom-line business and wins -- real ones, not their moral equivalent -- are all that matters.

This is all a long way of saying: if the Eagles are going to be competitive they need to find a franchise quarterback. It matters less who the coach is (though Reid is as good as gone), because without a legit quarterback it won't matter.
Remember Bill Belichick before Tom Brady fell in his lap? Or how about Tony Dungy pre-Peyton Manning? Both well respected, very good at their jobs, and led their teams to winning records. But there were no Super Bowl discussions because there was no franchise quarterback.

Unfortunately, they don't grow on trees.

CSNPhilly.com's Reuben Frank discussed the options in his Tuesday column and basically it came down to this:

* Stick with Vick;
* Give the keys to Foles;
* Go after a free agent like Joe Flacco (should he become available);
* Trade for somebody like Colin Kaepernick or Matt Flynn (it'll be expensive);
* Find a QB in the draft.

It's a lot to sort through and, ultimately, whatever's decided will have long-lasting impacts on the organization.

"There's no easy answer, no simple solution," Franks wrote. "But keep all this in mind this offseason when the Eagles go through their anticipated offseason transformation. Finding the right person to replace Andy Reid might not even be the most important challenge facing the franchise over the next eight months."

And that's worth keeping in mind as the Eagles stumble their way through the final six weeks of the season.