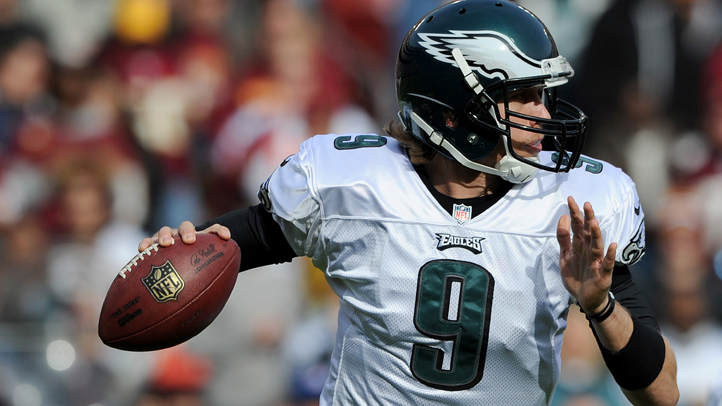 Game time: Monday, Nov. 26, 8:30 p.m. ET, Lincoln Financial Field
TV: ESPN
Weather: low-40s, clear
Records: Panthers (2-8) at Eagles (3-7)

1. Keep an eye on Nick Foles. The rookie third-rounder will be making his second start for Michael Vick, who continues to recover from a concussion. How Foles plays could go a long way in determining the franchise's long-term plans at quarterback. The scuttlebutt is that Vick is progressing nicely and could be ready to play in Week 13, but there's no guarantee that he and his $100 million contract will return in 2013. Foles, who was impressive in the preseason, struggled against the Redskins last week. The Panthers' defense is among the league's worst but … well, the Eagles' offense hasn't exactly been setting the world on fire.

2. Keep an eye on Bryce Brown (and Dion Lewis). Good teams can survive injuries to key players. The Eagles are not a good team. So losing their starting quarterback and their big-play running back makes Monday night's get-together with the Panthers even more problematic. That said, it's not like LeSean McCoy has had a Pro Bowl season; he's struggled like everybody else. Like Foles, Brown and Lewis can use the opportunity to impress whomever ends up in Reid's job after the season.

3. Keep an eye on Vinny Curry. The Eagles' second-round pick not only hasn't played this season, he hasn't been active on game days. That all changes Monday when the Marshall star will finally get his chance. At this point in the proceedings, where hope is all fans have, there's this: five of the seven Eagles' 2012 draft picks will play against the Panthers.

"I'm pretty sure the fans want to know where their [second-round] pick's at," Curry said last week via Philly.com. "I'm wondering the same thing. But it's damn sure not a talent issue. They have their guys set already. Ankle sprain in the summer, that's all I could think of."

On Monday, the fans will find out exactly how good Curry is.

4. Will the defense get past their communication issues? It seems like a ridiculous thing to write about a veteran bunch, but the 2012 season has been anything but normal for the Eagles. We mention communication because defensive coordinator Todd Bowles brought it up when speaking with the media late last week.
"(Miscommunication) shouldn't (happen), especially on the plays we gave up against Washington," he said Friday "We addressed that in the meeting. That should not happen. There's got to be communication on every play."
As for whether it's correctable this late in the season, Bowles said, "I think everything is corrected every week and all the time. The players are going to make mistakes just like your children. You don't want them to happen, and you can go over and over them. We have a responsibility to correct it, and they have a responsibility to get it right."
The difference: your children don't make six and seven-figure salaries.

5. So, what's left to play for? This is the $100 million question. Obviously, there's the old standby -- pride -- but it shouldn't take a 3-7 start for pride to kick in. It's clear that owner Jeffrey Lurie will be cleaning house in the coming weeks, all that's left to decide is how extensive it will be. Who stays and who goes could be determined by how the final five weeks of the season unfolds and that, more than anything else, is what's left to play for: jobs.