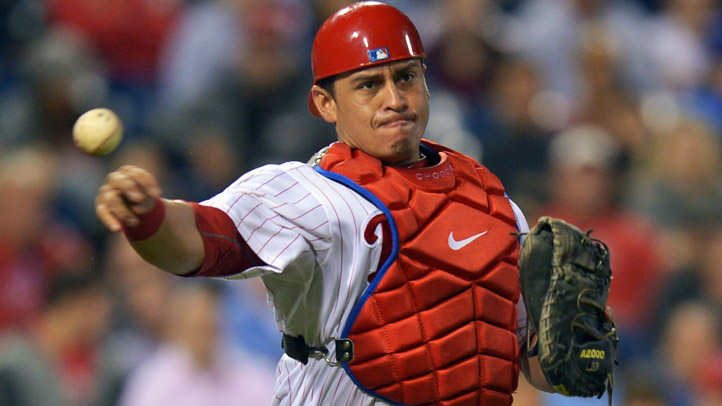 Here at Philthy Stuff we'll be taking a look at the 2013 Phillies and what we can expect from each and every player in the upcoming season as we head towards Spring Training. Next up, Carlos Ruiz.

Carlos Ruiz was one of the few players actually worth paying attention to, thanks to a breakout season that saw the catcher hit .325/.394/.540 with 16 homers in 114 games. Despite dealing with a nagging foot injury for most of the second half of the season, Chooch set career highs in just about every offensive category, and he proved to be the most effective weapon in the Phillies' lineup.

While Ruiz has shown that he has the capacity to be a reliable contributor to the offense over the last few seasons, no one could have expected that he would be a legitimate MVP candidate early on in the season. In truth, if not for the catcher, the Phillies would likely have ended the season well under the .500 mark.

And if the Phillies want to have a shot at the playoffs in 2013, he'll need to do it again. Even if Chase Utley, Ryan Howard and Roy Halladay are at full strength, they are going to need the catcher to provide the same kind of spark he did in 2012. Only this season, he won't be able to do so until near the end up April, thanks to a 25 game suspension handed out by the MLB stemming from a positive drug test for amphetamines.

Whether or not Ruiz's 2012 performance was a result of the banned substance, he'll nonetheless be absent from the lineup for most of the first month of the season, something that the Phillies might not be able to afford. Having said that, he figures to provide better-than-average offensive production from behind the plate, while remaining one of the best pitch-callers in the game.

He's been one of the best on the team when it comes to getting on base, and his power – while not great – is certainly among the best in the league at the position. Even though he'll be 34-years-old when the season starts, don't expect his bat to disappear. Bill James tends to agree, and he projects the catcher to have a .280/.365/.436 line, with 12 homers over 131 games. Although I think he underrates Ruiz's ability to get on base, an .801 OPS from your starting catcher is nothing to sneeze at.

But perhaps more important is that 2013 may very well be Ruiz's final year in red pinstripes, as he will be a free agent after the season. While it's possible the Phillies will want to retain the services of the backstop, this season might be the last time we see Chooch in a Phillies uniform.