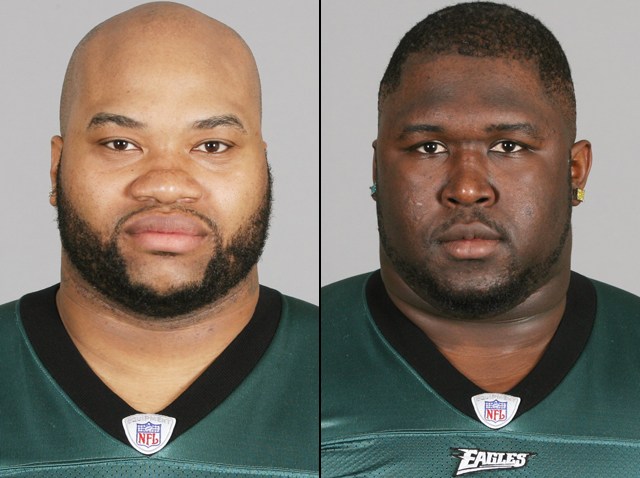 The Eagles picked up guard Reggie Wells Friday from the Cardinals.
The Birds will send an undisclosed 2011 draft pick to finish off their second deal of the preseason with Arizona.
Head coach Andy Reid explains what Wells brings to the Eagles:
"We're adding a player that has started several seasons in the National Football League and has played at a very high level during the course of his career."

"He has experience at several different positions along the offensive line and he will be a welcome addition to that group. You can never have enough depth at that position as you go through an NFL season."
OK so the 29-year-old is a durable big body you can plug in on the offensive line. Every fan knows that the Birds o-line has been for the birds this preseason so it only makes sense to try and make it better.
It will be hard, though, to see the Eagles hang onto both Stacy Andrews and Max Jean-Gilles with Wells now in the nest. Both current guards underperformed when given a chance during training camp and preseason games.
Yes, dropping Andrews, or Jean-Gilles would go against Reid's motto of "You can never have enough depth at that position," but with both guys making some decent money the Birds likely wouldn't want to pay a bunch of guys to ride the pine.
As of Friday night it looked like Andrews would be the odd man out.
"After talking to Stacy Andrews and agent Rich Moran, I'm thinking #Eagles trade Stacy before your Labor Day charcoal turns gray," Tweeted Eagletarian writer Les Bowen.
Nick Cole, if healthy or even second-year player Fenuki Tupou would make more sense in the backup guard role. I wouldn't be surprised if the Birds try to unload Stacy Andrews or flat out release MJG before Saturday's 6 p.m. roster cut deadline.
Talking roster cuts, the Eagles whittled their roster down Friday afternoon by releasing ten players and placing injured Victor Abiamiri on the Physically Unable to Perform list.
Told to flown the coop were CB Geoffrey Pope, CB David Pender, WR Dobson Collins, DT Boo Robinson, T Jeraill McCuller, DE Pannel Egboh, TE Nate Lawrie, RB J.J. Arrington, RB Martell Mallett and S Anthony Scirrotto.
Really no surprises there. Mallet, a former CFLer; Lawrie, a Yale grad; and Scirrotto, an area native and Penn State alum were all nice stories but none of them were NFL material at this point.
And, the Arrington move was a shrewd one. Releasing the veteran back gives the Birds a 2012 sixth-round pick from Denver -- part of the compensation deal agreed upon when the Birds sent LB Joe Mays out west.
The Birds still must cut 13 more players by Saturday night to get their roster down to 53 players. It could be a long night for bubble boys like S Quintin Demps, WR Chad Hall, CB/S Macho Harris, LB Tracy White, DL Jeff Owens and others.
Check back to see what player's will see their bubble will burst.