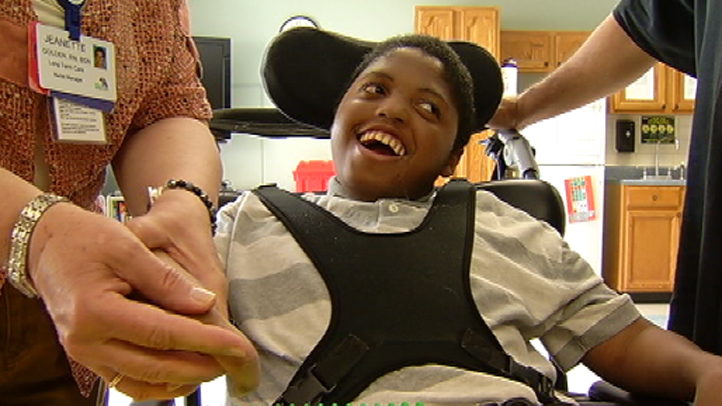 Meet Danny! He has an amazing smile and is sure to light up a loving and permanent home.
The friendly 17-year-old currently lives in the long term care pediatric unit at the Children's Specialized Hospital in Toms River, New Jersey.
Danny is diagnosed with Cerebral Palsy - a disorder of movement, muscle tone or posture that is caused by injury or abnormal development in the immature brain, most often before birth.
The teen absolutely loves people and responds well to his caregivers. His huge and warm smile always comes out when he hears his favorite vocalist, actor Julie Andrews.

Danny currently receives physical and occupational therapies. One of favorite things to do is to participate in pet therapy with their resident dog, P.J.

Danny needs a family that can assist with his medical needs and be committed to visiting the hospital for his care.

Danny has endured extensive spinal surgery but Jeanette Golden, the hospital's nurse manager, says in spite of his physical challenges he continues to make improvements every day.

"A few years back he had to opt for spinal surgery. Most people wouldn't even opt for it but he went through it and he did it with flying colors. We thought when he came back to us out of acute care we thought he'd be delayed even further but he wasn't any delayed. I think it tells us a lot about their inner strength, something we just don't know that they tap into," Golden said.

Danny needs a family that can understand his regiment, equipment and medication to help make a successful transition. A perspective family would be required to go through medical training. A one or two parent household would be ideal for the teen.

Danny needs and deserve a loving home.
---
Fan, follow and download: Get the latest from NBCPhiladelphia.com anytime, anywhere. Follow us on Twitter, Facebook and NBC Philadelphia. Sign up for our sports newsletter. And, get breaking news delivered right to your mobile phone -- just text PHIBREAKING to 639710 to sign up. (Message and data rates may apply.)