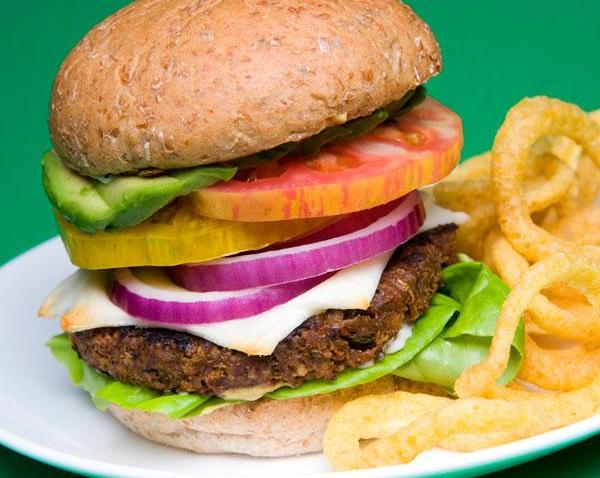 Village Whiskey Veggie Burger
Recipes by Chef Jose Garces
Ingredients:
1 cup dried black beans, soaked, simmered with onion and bay leaf till very tender
1 cup le puy green lentils, simmered with onion and bay leaf till very tender
1 Spanish onion, small dice
1 bell pepper, small dice
12 shishito peppers, roasted, seeded
1/2 cup shelled edamame, blanched
1/2 cup white corn
1# firm tofu
2 T roasted garlic, smashed
1/2 bunch fresh cilantro, chiffonade
1 t cumin, toasted, ground
1 t coriander, toasted, ground
1 t turmeric
1/2 t cayenne
1/2 cup soft day old bread (inside of burger roll)
3 T salt
Cool cooked legumes, pulse lentils in food processor till rough puree. Sweat onion, bell pepper, and corn. Combine with lentil, black bean, remaining ingredients, adding tofu and bread last. Allow mixture to chill for 1 hr before forming 6 oz patties in a 5" ring mold. Sear on hot griddle to order and garnish with pickled red cabbage and guacamole.
Pickled Red Cabbage
Ingredients:
1 head red cabbage, ribs removed, finely julienned
1 qt red wine vinegar
1.5 qt water
.5 qt granulated sugar
.5 cup salt
8 ea dried guindilla
10 whole garlic cloves
1 T yellow mustard seed
10 ea dried clove
5 ea fresh bay leaf
Heat all above ingredients to a simmer, allow to cool for 5-10 min at room temperature. Pour pickling solution thru chinoise over cabbage. Allow to stand at room temperature till cooled, then refrigerate in pickling solution. Before use, toss with fine julienned red onion, roasted and seeded shishito* pepper, and fresh chopped cilantro.
* Shishito peppers are a Japanese variety of pepeprs and are available at Asian markets.