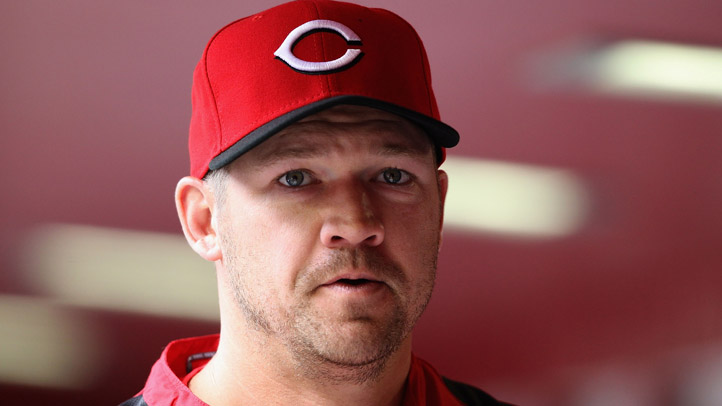 With the Phillies about a third of the way through the 2011 season Philthy Stuff will look back at our favorite moments from a memorable season so far.
---
Just about everything that could be written about Wilson Valdez's brilliant surprise win in the Phillies epic 5-4, 19-inning victory over the Reds last month has been penned.
So it would make sense that some favorite moments could be found in all those memories. That whole game could easily be my favorite Phillies moment from the 2011 season so far.
One particular moment still sticks out weeks later. I called it "Valdez's finest moment" then and I feel I am still right.
Nothing has been more satisfying for me as a Phillies fan this season than seeing Scott Rolen get plunked right in the side by one of Valdez's Frisbee pitches.
It was so rewarding because Rolen is the punk who shunned Philly after being a young star here. Instead of becoming the next Mike Schmidt -- playing the same position in the same town -- Rolen griped his way out of town, basically saying the Phillies were a bunch of losers.
As injuries took their toll, Rolen became a journeyman to most baseball fans -- a fallen star. But in Philly he is remembered well and will forever be greeted with boos.
To watch Valdez plunk Rolen with a pitch that wasn't hard and wasn't aimed high or low was perfect. He couldn't be hurt but the message was clear, "you're still not welcomed in our town."
And even though a success (getting a guy on base) for another team seems strange to view as a favorite moment, this one was different because Valdez was otherwise untouched and went on to win -- a point I made the day after the epic game:
Rolen was the only batter to reach base off "Babe Ruth" Valdez. And Valdez -- a 33-year-old journeyman -- would go on to become the first player to start a game in the field and end it as the winning pitcher since, well, Ruth 90 years ago.
What was your favorite moment from the 19-inning epic?