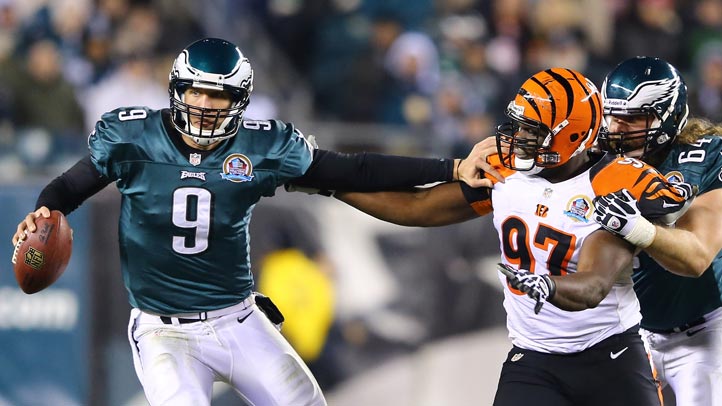 Each week we'll take a look at the decisive play that proved to be the difference between winning and losing.

If you want some insight into why this Eagles team is 4-10 look no further than a five-minute span late in the third quarter. Leading the Bengals 13-10, Philly began its drive on its own 47-yard line. Rookie quarterback Nick Foles underthrew Jeremy Maclin on a deep sideline route by a good 10 yards, Cincy cornerback Leon Hall had one of the easiest interceptions you'll ever see, and his 44-yard return set up the beginning of the end of the Eagles' evening.

Eight plays later, Bengals quarterback Andy Dalton waltzed into the end zone. The Eagles, trailing 17-13 at that point with more than a quarter of football to go, were still in it. That lasted a grand total of 30 seconds before disaster struck again.
Rookie seventh-round running back Bryce Brown does one of two things when he gets the ball and it's either really, really good or really, really bad: rip off a long run or fumble. On this occasion, it was the latter -- courtesy of a muffed handoff coupled with a Pat Sims hit in the backfield, and Bengals defensive lineman Walter Gilberry scooped the ball off the turf and hit pay dirt 25 yards later. Bengals, 24, Eagles 13.

Brown may have the rare combination of big back size and 4.3 40 speed, but he won't last long in the NFL if he doesn't learn how to secure the football. In his first two games, when he twice ran for more than 160 yards, his turnover problems were obscured by his performance. Now it's just annoying; it doesn't take any special talents to secure the football, and Brown ran as loosely with it Thursday night as he had the previous three weeks. He can have all the talent in the world but unless Brown's running a foot race, his fumbling problems will land him on the bench and ultimately out of a job.
If Brown wants an idea of what his future looks like, he should take a gander across the state at Rashard Mendenhall, a former first-round pick of the Steelers who is equally as careless with the ball. He's been a healthy scratch the last two weeks (after coughing it up twice in four touches in Week 12), replaced by a former sixth-rounder and an undrafted free agent. Hey, Bryce, don't be that guy.

Meanwhile, The Eagles' fortunes went from bad to worse after the Brown fumble; The first play of the next offensive -- a pass from Foles to tight end Clay Harbor -- resulted in (you guessed it) another fumble. Cincy kicked a field goal four plays later. Bengals 27, Eagles 13.

The circus continued on the ensuing short kickoff, one defensive tackle Cedric Thornton tried to field. The ball went right through his hands (of course it did) and it was promptly recovered by the Bengals (of course it was). That's three turnovers in 71 seconds and that, folks, is how you lose eight straight and nine of 10. Five plays later, Andy Dalton connected with AJ Green for a touchdown. Bengals 34, Eagles 13.

That forgettable stretch to end the third and start the fourth quarter makes moot a fantastic performance by the Eagles' defense. The pass rush got after Dalton all evening (the Eagles' D had six sacks before the offense and special teams forgot what a football was and what they were supposed to do with it) and forced two fumbles that helped them overcome an early 10-0 deficit.

(As long as we're pointing fingers: the only reason Cincy led 10-0 was because of a Maclin fumble on the second play of the first series and a Mat McBriar blocked punt deep in the Eagles' territory. So much for Bobby April's special teams wizardry.)

So what does this mean for the final two weeks? Not much, really. The Eagles are still missing the playoffs by a million miles, Andy Reid's still getting fired, and Foles will still play to figure out if he's full-time-starter material. He was steady-as-she-goes for most of the night but this is the NFL where games turn on one or two plays. And while Foles was solid for three-and-a-half quarters, his third quarter interception completely changed the complexion of the outcome.