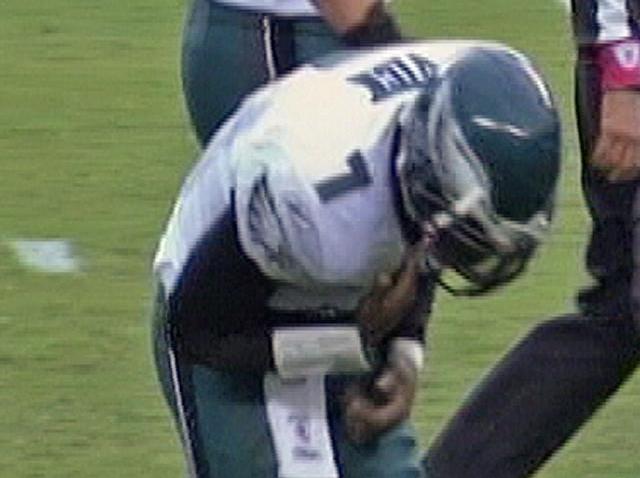 I have good news for you Philly folks: Michael Vick's MRI was was negative, which means the Eagles QB didn't break any ribs or chest bones in his brutal goal line collision Sunday against the Redskins. So maybe Vick misses next week's game in San Francisco, but he should be back sooner rather than later.
That's the good news.
Now, here's the bad news: Vick's injury is a terrible reminder that his style of play leaves him far more vulnerable to injury than other QBs. Vick has played 16 full games just once in his career (2006). He's missed starts in every other season and this season is likely to end up the same way.
Vick's injury history was a relatively easy thing to forget once you got caught up in the story of his jailing and redemption. But now I think all of us are dredging up memories of the preseason injury that caused him to miss nearly all of the 2003 season and the various other nagging ailments that followed. These injuries are a direct result of Vick's style of play, which is brilliant and thrilling but perhaps not built to withstand the rigors of a 16-game season.
Sunday's injury was a perfect case in point. Vick was injured on a play no other NFL passer could possibly make, weaving through traffic to score almost score a touchdown a play that got called back for freakin' holding. That run is something only Vick can do, but it's the kind of play that leaves him open to having his ribs bashed to pieces -- particularly when he elects not to slide.
This presents a big problem for the Eagles, because the running dimension to Vick's game is a such a huge part of what makes him great. It's easy to say the team must make him into strictly a pocket passer. But Vick, inherently, is not that. And I'm not sure you really WANT him to be that. The problem is that leaving him as is means living with this constant risk of him taking off and getting jacked.
Vick's contract expires at the end of this season. Given how he's played and how Kevin Kolb did in his stead (not terribly great), it would make sense for the Eagles to try and make a long-term commitment with No. 7, to make him the QB for the foreseeable future. But how do you do that when you know Vick is another run away from getting crushed? Maybe next time, the MRI won't turn up negative.
It's a difficult choice to make that the Eagles are going to have to face very, very soon. I don't even know if there's a right answer.