Since writing the review on Mama's Pizzeria in Bala Cynwyd last week I have received a lot of flack from people around the office as well as comments from visitors to the site. In case you didn't read it, I didn't like the place, many disagreed. But hey, I'm entitled to my opinion and I, as many Philadelphian's are, am very particular about the meal that is this city's claim to food fame.
Anyway, this Mama's uproar gave me an idea. The Cheesesteak Debate. I know, I know, it's been done before and I also know that your probably really sick of hearing it, but let's try something new. I'm going to give you the digphilly staff picks for best cheesesteak around and then you, the reader, can make comments, rebuttal, tell us your favorite, whatever you please. We want your opinions. You never know, your favorite cheesesteak joint might just help someone in finding the cheesesteak of their dreams.
Here they are:
Chris- Steve's-Prince of Steaks in Northeast Philly
Drew- Pudge's Steaks and Hoagies in Blue Bell
Frank- Pat's King of Steaks in South Philly
Harry- Duffer's Tavern in Glen Mills
James- Pat's King of Steaks in South Philly (mushroom cheesesteak with)
John- Jim's Steaks on South Street
Kelly- Ciminera's Pizza in Clifton Heights
Kenny- Pudge's Steaks and Hoagies in Blue Bell
Teresa- Doesn't eat cheesesteaks (she's doesn't know anything, she's from NY)
Todd- Dalessandro's in Roxborough
Steve's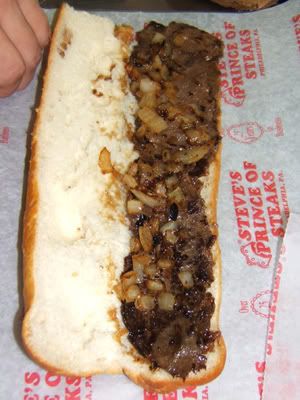 Pat's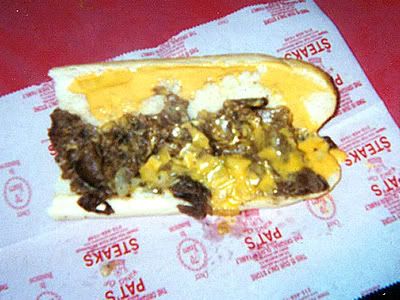 Jim's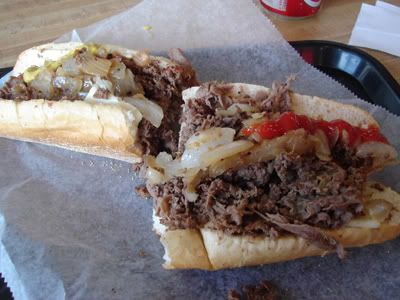 ***For more cheesesteak restaurants in and around Philadelphia click here.
Copyright DigPH - Digphilly