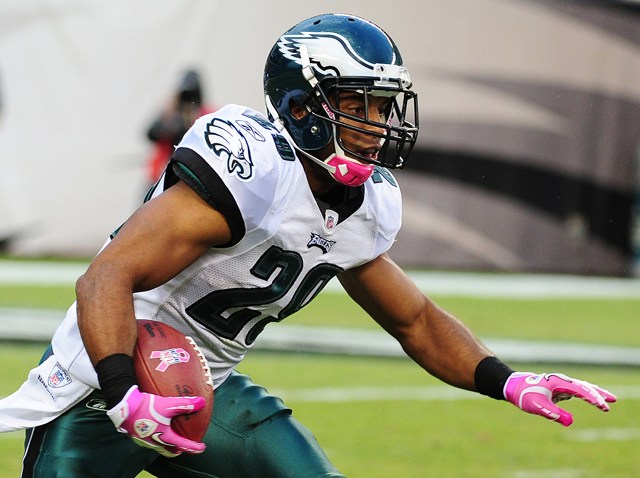 It's that time of week. Time to man up and make your pick for this week's game. Get it right, and you'll become filthy rich. Get it wrong, and you will find yourself trapped in a mine with 32 other starving and desperate men. For two months, you will be forced to endure permanent darkness and suffocating heat and hope and pray for rescue. Then, at long last, you will be lifted up from your underground prison in a very small capsule. Then, a bunch of news media people will prevent you from showering, which is all you ever really wanted to do after you got out. DO NONE OF THEM UNDERSTAND THAT YOU SMELL LIKE A ROTTING TOOTH RIGHT NOW?! Here we go:

Peter King: Eagles 23, Falcons 16. "We interrupt this game prediction to bring you this gee-whiz reaction to the Mike Bell-for-Jerome Harrison trade: What?!?! Bell's a guy. Harrison's a comet." Very true. A comet that Eric Mangini benched in favor of Alstott Lite. Nothing Eric Mangini does makes sense. Peter's barrage of question marks and exclamation points was nearly warranted.

Eight of Ten ESPN Experts: Falcons. Quite a heavy tilt for Atlanta. If it soothes you, you should know that nine of ten of their experts picked the 49ers to win this weekend. NINE OF TEN! FOR AN 0-5 TEAM THAT MAY BE RUN BY A MENTAL PATIENT! Madness, I tell you.

Michael Silver: Falcons.

57% Of Yahoo! Users: Falcons.

Pete Prisco (CBS): Falcons.

AJ Daulerio: Eagles ("KOLB.")

Index Card I Threw Up In The Air With The Name Of Each Team On Either Side, Seeing Which Team Would Land Face Up: Falcons (Index Card record: 3-2)

The Wife: Eagles

Me: It's quickly becoming a cardinal rule of this season that any team considered the best in a woeful NFC won't stay the best for long. I don't think the Falcons are all that good. I just think that, compared the Bears (who share the same record), they look like a freakin' steak dinner. It's hard to pick this kind of game without knowing if Michael Vick is going to show up or not. Regardless, I think the Eagles win. EAGLES 17, FALCONS 10.

Yours in the comments.