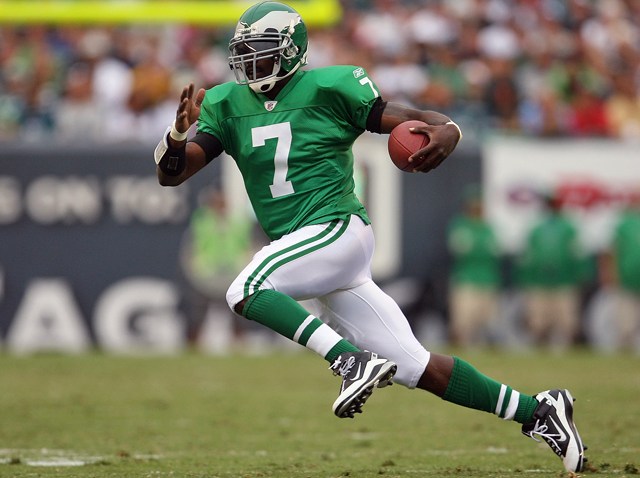 It's that time of week. Time to man up and make your pick for this week's game. Get it right, and you will become a neorevolutionary. Disaffected voters will flock to your fiery brand of anti-tax, libertarian political views. They'll stage huge rallies in rural areas and throw tea into rivers in protest, ALL FOR YOU AND YOUR ANGER. Get it wrong, and the night shift at Hardee's will keep you in its stern grip. Here we go:

Peter King: Eagles 20, Lions 13.

"Tempting, very tempting, to pick the Lions, and I probably would if Matthew Stafford were playing."

Really? Has Matt Stafford really done anything yet to justify the idea that he can help win games? Remember, it was Shaun Hill who tossed that game winner to Calvin Johnson that the refs took away. Not sure the dropoff is as pronounced as everyone might think.

Bill Simmons: Not in yet. But I'm really excited for him to compare the Eagles to a contestant on "The Bachelorette".

Nine of Ten ESPN Experts: Eagles.

Michael Silver: Eagles.

90% Of Yahoo! Users: Eagles.

Pete Prisco (CBS): Eagles.

AJ Daulerio: Eagles ("Vick, baby.")

Index Card I Threw Up In The Air With The Name Of Each Team On Either Side, Seeing Which Team Would Land Face Up: Eagles (Index Card record: 1-0)

The Wife: Eagles

Me: The Eagles are the unanimous pick this week, probably due to that supposedly devastating injury to Stafford. Again, I think Shaun Hill is more than capable of making this a game, especially given how hosed Detroit was last week by a crummy rule. But that contrarian alert is overridden by the fact that Michael Vick is starting. If you don't think the fates have already decided that Vick will have a stellar game and make Andy Reid sweat through his sweatpants, you don't know the fates very well. Eagles win. Vick runs wild. Andy is screwed.

EAGLES 31, LIONS 21.

Your picks in the comments.