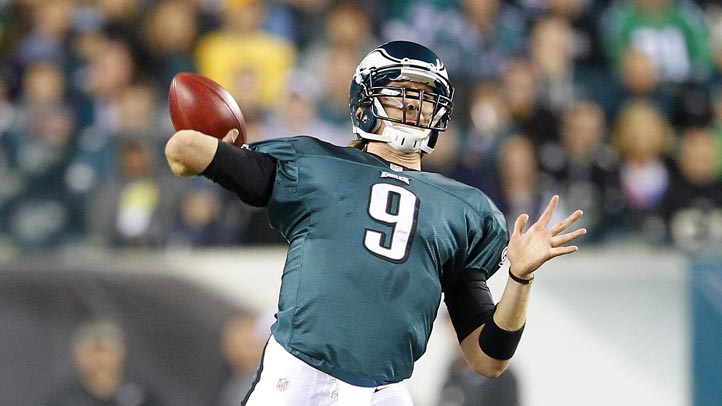 If the Eagles are to match last season's "unacceptable" 8-8 record, they're going to have to win out. There's a better chance Nnamdi Asomugha actually covers somebody. But hey, the longest journey begins with the first step...

ESPN: Sweet baby Jesus, we have a first for 2012: it's unanimous, every ESPN expert is picking the Eagles to lose to the Cowboys. It's not necessarily surprising -- Philly gave up weeks ago and Dallas still has something to play for -- but it's weird to see a row of Cowboys' blue stars staring back at you from your computer screen.

CBSSports.com: The Eagles made out slightly better with the CBSSports.com experts. And by "slightly" we mean "one expert (we're naming names -- it was Jason La Canfora) took a flyer on Philly." Everybody else is on the Cowboys train.
CBSSports.com's Pete Prisco puts it all in perspective nicely: "This once looked like a big game. It isn't. The Eagles are horrible and out of it. The Cowboys are trying to survive. I think they get it going here against an Eagles team that is playing on a short week and playing for nothing. Cowboys roll, 37-21."

Yahoo Sports: The shutout continues: it's a Yahoo whitewash -- all four experts are taking the Cowboys. And no one blames them. Not even a little bit.

What Vegas is saying: FINALLY, some good news. Dallas may be favored by 7.5 points but there's this, via OddShark.com:

* Cowboys are 0-8 against the spread in their past eight home games;
* Cowboys are 2-10 against the spread past in their past 12 NFC East games;

Now the inevitable bad news: Eagles are 0-6 against the spread in their past six games.

But you probably already knew that.


Siri: We decided to consult a higher power this week. When we asked Siri "Who will win the Eagles-Cowboys game?" she offered this: "The Eagles were downed by the Cowboys on November 14, 2012; the final score was 73-60." Siri was confusing the Wyoming-North Carolina Central basketball game from two weeks ago with this Sunday's NFL matchup but whatever. We don't blame her for not considering the Eagles an actual sports team.

Me (5-4): We've stuck with Philly longer than common sense suggests and we're finally abandoning ship. There's no rational reason to think they'll win -- everybody's out on offense, and the defense gets worse by the week -- so like everybody else, we're going with the Cowboys, 28-10.