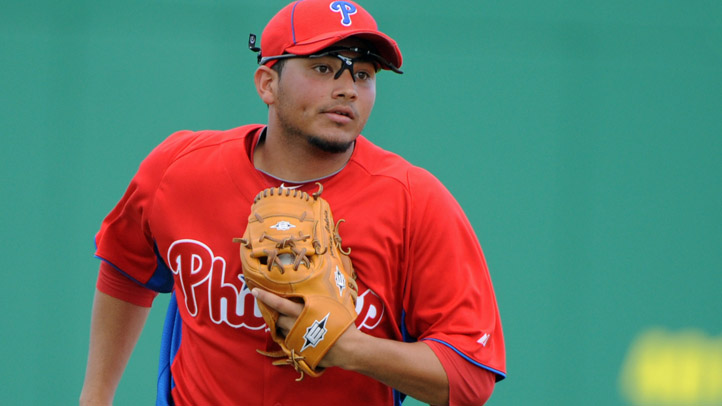 Coming into the 2012 season, there wasn't a lot to be excited about in Philadelphia. After the crushing loss in the NLDS in 2011, the Phillies found themselves behind the eight-ball during the spring, thanks to injuries that would leave the team without Ryan Howard and Chase Utley for the beginning of the season. To make matters worse, Roy Halladay was showing signs of aging during his Spring Training starts, and the offense figured to be – to put it delicately – a challenge.

For the fans, confidence was fairly tempered, and there wasn't much to look forward to, especially with the Washington Nationals poised to make a lot of trouble for them over the course of the season. But one thing that we were able to look forward to was watching Chase Utley's replacement at second base, Freddy Galvis.

Galvis, one of the team's better prospects in the system - due entirely to his fielding, was revealed to be Utley's temporary replacement during the spring, where he transitioned from his natural position – shortstop – to second base, where he had to learn how to play an entirely new position in a matter of weeks.

And boy, did he ever learn. By the time Opening Day rolled around, Galvis was a natural. His instincts and fielding ability, combined with a shortstop's arm, made for a devastating combination. He owned the position, and made the most difficult plays look routine.

His bat, on the other hand, was not so impressive. He owned a .613 OPS in the minor leagues, and it showed, thanks to a .226/.254/.363 line with three homers in 58 games. He wasn't an automatic out, but he was close enough. But, all things considered, he was tolerable thanks to his ability to prevent runs on the field.

Although there hasn't been much talk about him during the spring, Galvis seems to be likely to make the Opening Day roster as a utility infielder. Despite his lackluster bat, Galvis has been getting starts at third base throughout the spring and figures to play a role on the big club during the season. And, given what we already know about the team, that's a great idea.

Thanks to his ability to play second, third, and shortstop, Galvis is incredibly valuable on defense. While Chase Utley and Jimmy Rollins are going to continue to be among the best in the game at fielding their respective positions, the fact remains that both players are in their 30s and will figure to need more days off than most. Then you have new third baseman Michael Young, whose glove very well makes the Phillies long for the days of Wes Helms.

What this means is that the Phillies have the opportunity to do something very unique – and potentially very valuable – with Galvis. On a weekly basis they could have Galvis rotate around the infield (for instance: third base on Monday, shortstop on Wednesday, second base on Friday) to give the older starters a rest, while also allowing him to get frequent playing time against big league pitching.

Not only will this reduce the wear and tear on valuable players, it will also allow the Phillies to improve their defense – especially at third – in the infield. This isn't something that Charlie Manuel would have to do with such frequency, but it's a way to make sure that his starters are getting plenty of rest without sacrificing too much over the course of the season. It's a no-brainer that Chase, Jimmy, and Michael are better hitters than Freddy, but if the handful of games they get to have off means they are less worn down at the end of the season, the loss of offense might very well be justified.

Age, and by extension, injuries, is a problem that the Phillies are going to have to deal with in 2013. And although this would be something that I could not imagine Charlie Manuel putting into practice with any frequency, having a dynamic, 23-year-old defensive wizard at your disposal is a luxury that he'd be wise to take advantage of.