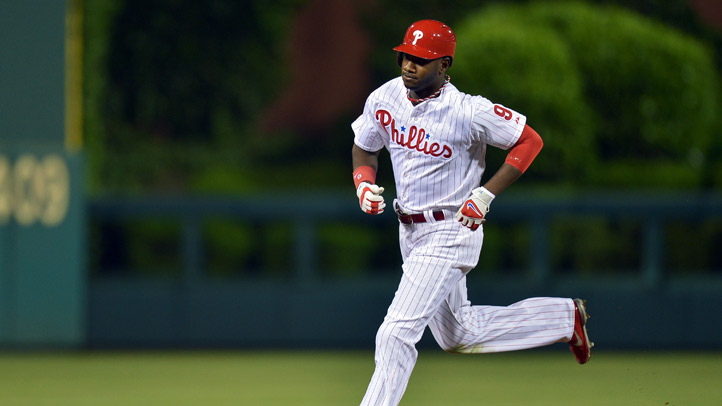 As a baseball fan, few things bring me more joy than watching a young prospect bloom into a legitimate MLB player over the course of the season. It's why I loved when Jason Heyward hit a home run in his first career at bat, or when Bryce Harper ran directly into that wall, and it's why I loved watching Mike Trout do everything to absolute perfection in 2012.

And it's also why I am loving what Domonic Brown has done through the first two months of the season.

It's obvious (for those who read this blog with any regularity), but I jones pretty hard for the likes of Mr. Domonic Larun Brown. Ever since the 20th round draft pick went from project to prospect, I've been infatuated. His ascent through the minor league ranks was a thing to behold, as the high school football star (he was going to be a wide receiver for the University of Miami before the Phillies snagged him) found himself atop the minor league ranks as one of the best hitting prospects in Major League baseball.

His minor league success did not immediately translate to the Phillies, thanks in part to a series of injuries and the organization mishandling him to a spectacular degree. Now, however, it appears that the player that Ruben Amaro refused to trade for Cliff Lee, Roy Halladay, and Roy Oswalt is finally finding his footing as a member of the Phillies.

He's doing it in grand fashion, as the Domonic Brown Power Tour doesn't seem to be coming to a halt anytime soon. Following a so-so April (.681 OPS, 3 HR) that came on the heels of a brilliant spring, Brown has gone yard 10 times in the month of May, including four homers in his last three games. He's leading the team in home runs (13) and RBIs (32).

His recent power surge has earned him National League Player of the Week honors, thanks to a .348 batting average and a 1.130 OPS in six games between May 20 and May 26. He hit a pair of homers, a pair of doubles, and a triple in that span.

While the rest of the team has struggled much during this season, Dom has stood out as a bright spot amongst the battered, bruised, and mediocre. Although Brown's game isn't perfect (his defense is still a work in progress, and his on-base percentage is ghastly), it appears as if he is finally turning into the prospect that we all thought he would be.