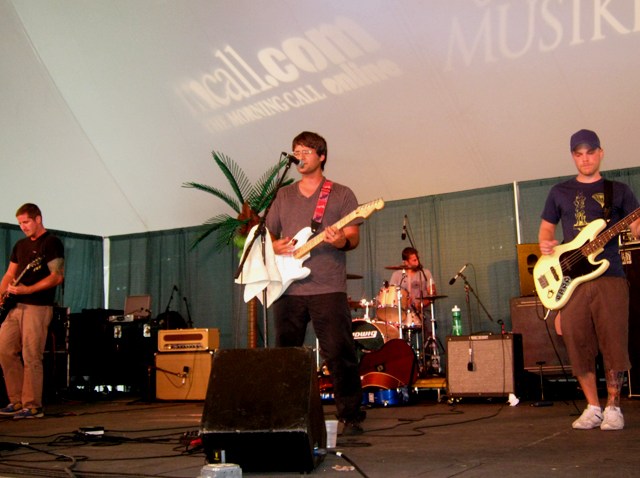 Amped Up!, "Musikfest's got-battle-of-the-think-you-can-idol-band-quest," was an online competition across the country where bands could compete for a chance to play at Bethlehem's Musikfest.

Bands all around the country entered the competition and Musikfest chose their top ten.

Ultimately, the fans had the last say and voted for Panic Years, The Atomic Square, and The Hide and Seek Effect to rock out at one of the biggest music festivals in the country on Monday, August 9.

One of two bands from Philadelphia to win the Amped Up! competition, The Atomic Square was born and bred in the city of brother love. They even record their music locally at Gradwell House Recording Studio in New Jersey.

Made up of lead singer and guitarist Ete AhPing, guitarist Tom Ryan, bass player Dan Dell and drummer Jason Gooch, the band is a unique blend of indie-rock with pop-like beats -- not to mention some killar vocals and heartfelt lyrics.

The band even released their first full-length album "'After It's All Said & Done" in December 2009.

Have you ever been to Musikfest before?
Ete AhPing: Yes, eight or nine years ago. It was awesome. I loved it. The first time, I was with my buddy. We just drove up here we knew nothing about it. We watched the polka bands and had a good time. One of my favorite Philly band was playing.

Why did you guys enter this competition?
The Atomic Square: We just entered it because it seemed like a pretty cool idea. We'd heard of Musikfest, but some of us had never been. It was like 200 bands that were all entering and then we were top ten, and then we were top three. It was pretty cool. And Musikfest sounded pretty awesome.

Did you know any of the other bands performing or competing?
The Atomic Square: (laughs) It's not really competing. Not anymore, we won!

Well, of the bands that entered, do you know of any of them?
AhPing: Yes, we played shows with a couple of them. The band that's playing after us, Panic Years, we're playing a show with them at Johnny Brenda's on August 19. We're pretty good friends with them.

You guys plan on staying in Philly?
Tom Ryan: Yes, we're going to rep Philly. That's our town to represent music in. Philly needs some more good bands coming out of it.

What do you like about the Philly music scene?
AhPing: We've got some really good radio stations -- Y-Rock, Y-Not, XPN, 104.5. They're really supportive of the local music scene. They do a lot for us and they help us. That's what I like about it. People love music.
Tom Ryan: The live side of it is great, but it's tough. There are a lot of venues. There's so many bands and there's so many venues that are closing and changing ownership making it hard to find a place to always be. But there are those venues that we have great shows at.

Where are the venues you like most in Philly?
Tom Ryan: I mean, I'm always a fan of North Star. We're going to play at Johnny Brenda's. We've never played there, but I think that will be my favorite. World Café is really awesome. The Note is a good place in West Chester.

Who are your main music influences? Is this the main cliché question you guys get?
Tom Ryan: Yeah, its kind of like ughhh (laughs).
AhPing: My favorite vocally is Morrissey from the Smiths.
Jason Gooch: Thrice is really influential in my drumming and my style and that stuff.
Dan Dell: I'd have to pick Explosions In The Sky.
Tom Ryan: It's tough, I mean right now I'm going to with Smashing Pumpkins' Siamese Dream. Just right now. I'm different all the time. But that CD in particular right now is pretty popular on my playlist.

How would you guys describe your music?
Tom Ryan: It started very experimental rock. It kind of evolved into more of an indie rock. [Our music] has a lot of indie pop tendencies, I guess. But I love it because it's a good time, good fun music. There's some serious stuff, there's some slow stuff, but there's also some happy, pop-y stuff. So it's kind of like the music I hope that any genre or age group would listen to.
Want to know more about The Atomic Square? Check out their website or see them live at Johnny Brenda's on North Frankford Avenue on August 19 alongside fellow Amped Up! winners, Panic Years.

For more on Musikfest, head to LehighValleyLive.com/Musikfest.