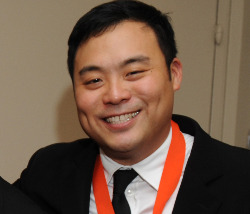 ---
This week's profile is NBC10 Employee, David Chang from Philadelphia. Philly fashion guru Sabir Peele tells us why David is this week's "That Guy."
---
What I like about this look?

David presents a look that is well balanced. He has complementary colors of brown and pairs his waist coat with a dark denim jean. It's great to see that he still paid attention to having a more tailored fit, which accentuates his built.

Where could this outfit be worn?

I like to call this particular look, "The Chameleon". Depending on your work environment, or if it's a "Casual Friday", this look is perfect for the office. Although his jeans are on the casual side, the waist coat pulls this outfit together into a more polished look. If you plan to go on a date, grab dinner, or meet up with the guys, you don't have to worry about being over or under-dressed because this look bridges that gap.

Where can you buy this particular look?

The brown herringbone waist coat has made a huge splash this fall. Check J.Crew for the English Wool herringbone waist coat that can dress up a denim look or add a bit of texture to a dressier look. Dark wash denim is fairly easy to find throughout most popular brands. To go with a more classic denim maker, head over to Levi's or new comer Nudie Jeans. Button down collared shirts are a classic staple for most men's wardrobe. Brands like Izod and Onassis Clothing offer some great button down shirt in solid colors or patterned styles.

Style Tips?

Overall, this look is well thought out; however, there are some things that should be tweaked. In terms of the waist coat, he should look into one without lapels (the folded part below the collar on each side of the jacket), because it draws attention away from the overall look of the outfit. It would be beneficial to switch to a waist coat with a lower button stance. A lower button stance would show a bit more of his chest as well as elongating his frame. To have more versatility in terms of wearability, he might want to swap out his sneakers in exchange for a pair of laced Oxfords or a brown leather or suede loafer.