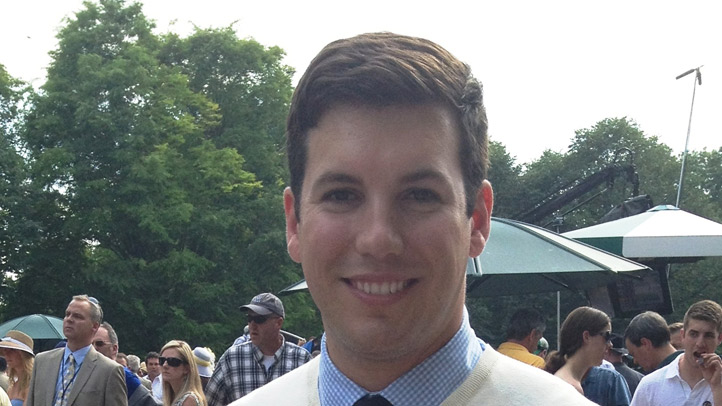 ---
This week's Profile is Chris Casazza of Philadelphia, PA. Philly Fashion guru Sabir Peele tells us why Chris is this week's That Guy.
---
What I like about this look?

Early summer weather is usually a mix of semi warm days and chilly nights, which are often hard to dress for. What I like about Chris' look is that he really took a risk by layering a summer sweater with the rest of his look. A summer-weight sweater (usually a fine merino wool, cotton or cashmere) comes in handy when planning on being out all day and night when the weather hasn't hit true summer temperatures. Instead of going with a chinos or traditional denim trouser, he went with a chambray fabric which is traditionally reserved for button-up shirts and blazer. The chambray fabric choice is some-what out of the box in terms of pants, but, adds some flair to this look without "peacocking" and helps him to stay cool because the fabric breathes well.

Where could this outfit be worn?

This look crosses a fair amount of environments in terms of appropriateness of dress. This outfit works perfectly for going work, on date or in or in his case, catching one of the big horse racing events that just passed.

Where can you buy this particular look?

A summer sweater is a great investment because it can be worn year-round. Brands like Psycho Bunny, Ralph Lauren & Brunello have perfected the summer sweater. Chambray trouser are new to the menswear scene, however; brands like Billy Reid, Adriano Goldschmied and Bonobos are the three brands to look to for the best pants in the market. If you are in the market for a pair of monk strap shoes, brands like Mercanti Fiorentini, Johnston & Murphy, J.Crew and Allen Edmonds carry a variety of style, colors and fabrics.

Style Tip?

If you fear that wearing a summer sweater will leave you drenched in sweat, opt for a summer cardigan. A cardigan is easier to remove than a traditional pullover style sweater.