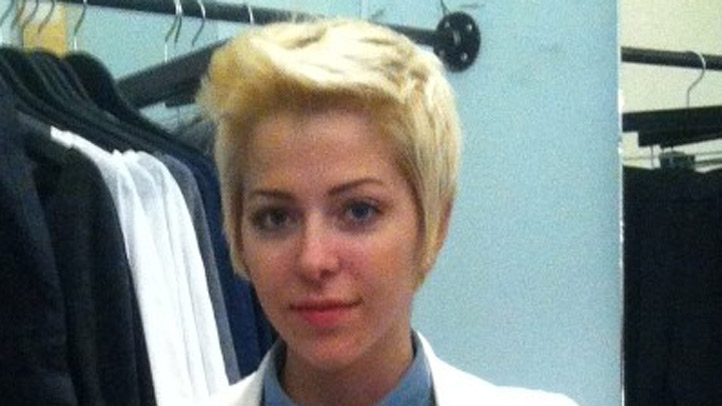 ---
This week's Profile is Laura Weiszer of Philadelphia. Philly Fashion guru Catriona Whitehead tells us why Laura is this week's That Girl.
---
What I like about this look?

This woman is presenting an old school rock and roll vibe, while simultaneously channeling something quite chic. The white blazer and sudo-pompadour (a hair style in which the hair is combed up from the forehead) suggests Elvis Presley, while the black leggings and simple black flats seem more Audrey Hepburn—both of which were celebrity figures during the late 50's and early 60's. This entire look consists of only four pieces, and yet she looks like a style powerhouse. She has buttoned the chambray top all of the way to her neck, she has bleached her short hair blonde and flipped up the front, and she's wearing a white blazer. Each of these little choices makes this ensemble personal to her. Furthermore, her flats and untucked button-down allow for freedom of movement—providing more room for comfort and confidence. If you're a simple gal, try this look with a colored blazer (anything other than black, brown, or grey), pull your hair into a sleek bun, and put on any colored button-down you want—instant cool.

Where could this outfit be worn?

This outfit is appropriate for daytime or nighttime, work or play, party or a quiet night out. I would argue the chambray top provides a dressy-casual, the white blazer provides daytime or nighttime polish, and the black leggings and black flats are anytime garments. Altogether, you have a dependable go-to outfit.

Where can you buy this particular look?

A white blazer is best found at Banana Republic, Chicos, GAP, JCrew, LOFT, Piperlime, ShopStyle.com, Theory, and Urban Outfitters. A chambray buttondown can be found at Banana Republic, Free People, JCrew, Madewell, Piperlime, ShopStyle.com, and Urban Outfitter. Black leggings can be found at American Apparel, Bluefly.com, JCrew, OnlyLeggings.com, Target, and any major department store. Black flats can be found at Cole Haan, JCrew, Payless, Toms, Zappos.com, and numerous other places.

Style tip?

My one styling tip would be: if you don't like wearing leggings as pants, try some black jeans instead. I think this outfit is simple, perfect, and comfortably loaded with fashion.