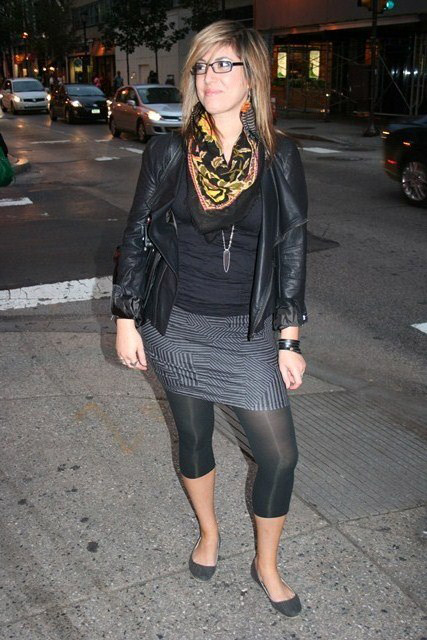 ---
This week's profile is Jessica Claar from Philadelphia. Philly fashion guru Catriona Whitehead tells you why Jessica is this week's "That Girl."
---
What I like about this look?
She has utilized such pieces as the grey and black patterned skirt, a beautiful scarf, feathered earrings, and a cropped leather jacket, to express an edgier part of her personality. The leather jacket brings the entire outfit together by providing a strong base that she can then work off of and add other pieces. The patterned scarf softens and feminizes the edginess of this outfit by offering bright yellows/reds (to off-set the black).
Where could this outfit be worn?
This outfit is primarily fitting for the night scene (i.e. the clubs, bars, and lounges). But it could serve as a day outfit if she is feeling particularly fierce.

Where can you buy this particular look?
The leggings, black tee, and patterned jersey skirt can be found at Forever 21 and H & M. The leather jacket can be found at stores that provide real leather goods such as, Kenneth Cole, Diesel, and Wilsons Leather. However, if you're not interested in a long term, and potentially expensive, relationship with your leather jacket, go for a pleather -jacket. This can be found at Bebe, Express, H & M, Macy's, and Zappos.
Style tip?
My one recommendation is to try black tights or full length leggings instead of leggings that hit her mid-calf. Pants that hit at the mid-calf or just below the knee often make the wearer appear shorter, due to a hemline that breaks up the line of the leg. Tights or full length leggings will help to lengthen her leg and also make her look leaner.