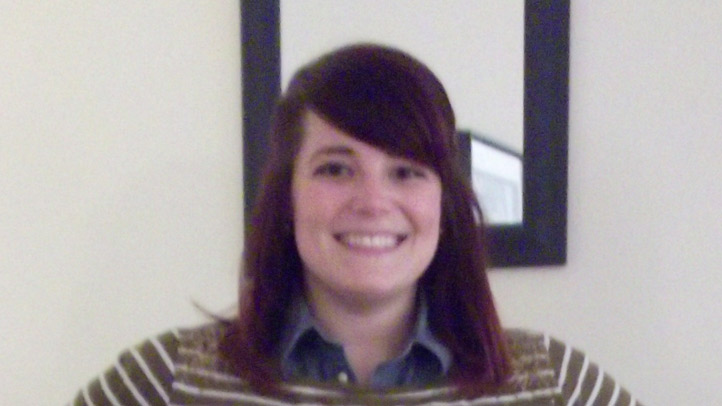 ---
This week's Profile is Erin Pitts of Philadelphia. Philly Fashion guru Catriona Whitehead tells us why Erin is this week's That Girl.
---
What I like about this look.

This look has wonderful depth, but offers the easy accessibility and comfort of your basic jeans and tee. What brings depth to this look are the patterns and textures. The collar of the button-down shirt fills the space around the crewneck of her tee. The green and cream stripes of her tee contrast the solid blue of her button-down. She has rolled her sleeves and cuffed her jeans to create a sense of trim at the edges of these garments, which provides more interest to the overall look. Her shoes are a leopard print calf-hair and black patent leather combo in a boat shoe cut. Lastly, she adds a touch of yellow around her waist to break up the stripes, define her waist, and create a bit more contrast in color. While the mixture of all of these patterns and textures seems counterintuitive, it's actually quite insightful. The leopard print and the stripes are separated by the span of her legs, preventing the viewer's visual senses from being overwhelmed. The cuff of her jeans matches the blue of her chambray shirt; furthermore, the size of her pant cuff matches the size of her shirt cuff. Lastly, when you mix green and cream together you get a pastel green. Pastel green looks lovely with yellow. As a result, the yellow belt works well over this striped shirt. It's these minute details that demonstrate this young lady's acute understanding of textiles and how to combine them. Bravo!

Where could this outfit be worn?

This outfit is appropriate for all casual activities, particularly activities that require some walking (Sperry Topsider shoes are extremely comfortable and her overall outfit is conducive to easy motion).

Where can you buy this particular look?

This particular striped ¾ length sleeve tee was found at Target in fall 2011. Similar shirts can be found at Alice + Olivia, Banana Republic, Forever 21, JCrew, and ShopStyle.com.Her shoes are from Sperry Topsider, but similar shoes can be found at Guess, Keds, Polyvore.com, ShopStyle.com, Shopzilla.com, Vans, and Zappos.com. Lastly, a chambray buttondown is best found at Eddie Bauer, Fossil, JCrew, ,Madewell, Old Navy, Ralph Lauren, and ShopStyle.com,

Style tip?

If she wanted to give this look a little more night-time sass, I would recommend replacing the jeans with a cream or denim colored pencil skirt and the boat shoes for a leopard print or nude heel. Check out Erin's place of business at www.Kembrel.com. This Penn start-up offers unique apparel and accessories. The stores are located at 1219 Locust Street and 1822 Chestnut Street.