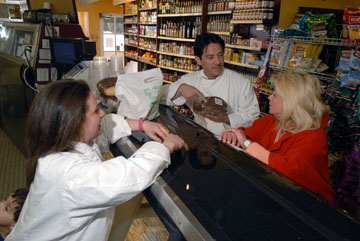 We feel bad for the owners and employees of the Delaware Market House in Gladwyne. After reducing stock, laying off workers and cutting their hours, the gourmet grocery store and catering company is closing its doors at 5 p.m. today.
They're selling everything at 50 percent off (so get the good stuff while you can) -- and even having a little party to say goodbye to a place that felt like home.
But it's not their fault.
"People started shopping differently because of the economy, at Costco and places like that. They are buying bigger shampoos and bigger soaps," co-owner Edgar Alvarez told News10.
We blame Gladwyne's residents. You know, the ones who live in the wealthiest town in Pennsylvania and the third-richest place in the nation.
The people who started whining when they heard the news. "I'm going to have to cook. That's a bummer," one woman groaned to The Philadelphia Inquirer.
They allegedly couldn't afford the $7.99 rotisserie chicken or $18 jar of white truffles anymore. "People are watching their finances, and when they're looking to make cuts, gourmet food is the first to go," Edgar's wife and co-owner Kim Alvarez told the Inquirer.
Yep, it's really hard being rich. You might actually have to use that fancy, state-of-the-art kitchen you had custom built for your mansion.
But fear not, the Alvarezes have another venture planned. Prepared food only. So hang tight, citizens of Gladwyne. Your no cooking days will begin again, hopefully soon.