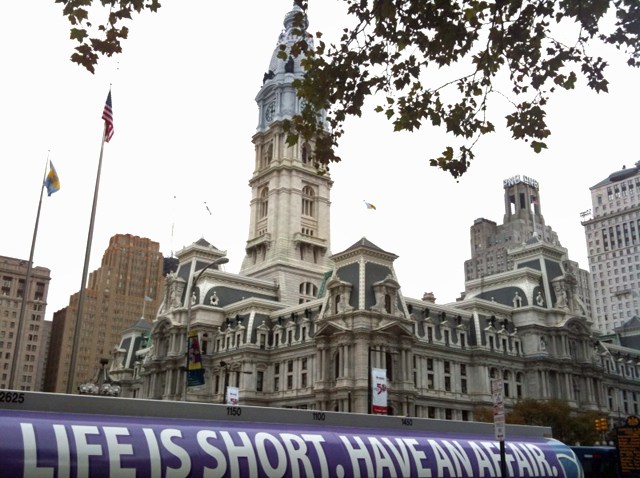 A tanker truck promoting a dating site encouraging infidelity was kicked out of Philly after parking in front of Love Park and City Hall today.
The words "Life is short. Have an affair" was written on the side of the AshleyMadison.com tanker.
The controversial site that encourages married people to cheat on their spouses stopped in Philly on its "Have an Affair Anywhere Tour."
"This is the first time we've ever gotten kicked out of a city," says Jay Gira, a documentary filmmaker who has been scouting out locations for the campaign. "We weren't even kicked out of New York."
After their stint at Love Park, coordinators of the tour were hoping to make it to Citizens Bank Park in time for the Phillies game tonight, but that won't be happening. Secret service and police told them they had to leave town at about 1:30 p.m., says Gira.
"[Police] said they were getting too many complaints and people were nervous because it's a gas tanker," Gira told nbcphialdelphia.com. "Truck enforcement said we couldn't park here."
The affair tour that began in LA has traveled everywhere from Salt Lake City, to Memphis, to Boston in its cross-country trip, says Gira.
The subject of Gira's film is the state of marriage in America, and for it he's interviewed countless people who have encountered the Ashley Madison tanker on the tour.
"We've gotten reactions that range from complete disgust to total acceptance," says Gira. "Some people called it 'promoting rape and murder'."
Overall, Gira says that people agree that marriage values are changing. While parked outside the Lorraine Hotel, the place where Martin Luther King Jr. was assassinated in Memphis, a preacher told Gira that, "[Infidelity] happens; it's a sign of the times."
Gira believes that infidelity has been prevalent throughout history, but in this day and age, technology and a lack of community and close-knit families has made it more prevalent.
And yet when Gira turned the tables on every person who agreed with the Ashley Madison cheating concept and asked, "What if it was your wife or husband?" the reponse was quite different, he said.
"'No that would never happen,' they would tell me. 'That would break down our marriage,'" said Gira.
AshleyMadison.com has 3.8 million members, and membership is only growing, according to its founder.
After getting kicked out of Philly at about 1:30 p.m., the tanker heads to D.C.