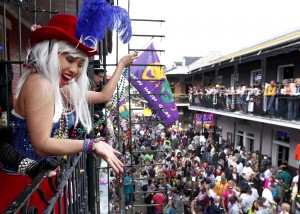 This article is sponsored by Dylan's RV Center. If you have questions about purchasing a new or pre-owned motorhome or just about the RV lifestyle in general please contact Dylan's RV Center.
It's almost Fat Tuesday, and if you've ever been to New Orleans during this time of the year you're well aware that there's a whole city that thinks it's a pretty big deal. As in, shut down schools, close offices and literally do nothing other than party all day and watch some of the most elaborate and detailed parade floats you've ever seen shuffle down Canal street. Since we're in the Northeast suffering through this seemingly never ending winter, we thought it would be a good idea to outline a short trip you could take in your coach down to NOLA to escape the cold and snow and celebrate like you were born in the French Quarter.
Being as that we're only a few short miles from Philadelphia, we'll begin our trip in the city of brotherly love, a mere 1200 mile, 18 hour ride to The Big Easy and hit a few stops along the way.
First Stop: Silver Spring, MD (2 hours)
Most of you are probably reading this and saying to yourself "Why Silver Spring? Ever heard of Washington DC?" Part of the fun of going on a road trip is visiting places you've never been to before, and Silver Spring has the historic charm and a rich musical and artistic history that just seems fitting for a trip who's destination is a town known for food and music. While you're here, park the coach at Cherry Hill Park and go check out A Brushstroke of Discovery, a beautiful mural based on the uniqueness of life.
Second Stop: Knoxville, TN (7 hours)
Now you're (y'all are…) really in the South and you've taken a beautiful drive down I-81 through the George Washington National Forest to get there. While in Knoxville, it's a must that you check out the Tennessee Theatre, ranked the #1 attraction in the city by Trip Advisor. This historic theater built with Spanish influence in 1928 features acts ranging from George Thorogood & The Destroyers all the way to the Knoxville Symphony Orchestra. Stay the night at the River Plantation RV Resort because our next stop is…
Birmingham, AL (3 hours, 45 minutes)
If you're like a lot of us living the motor home lifestyle, you have an interest in all things motorized and that's exactly why you'll be checking out the Barber Motorsports Museum & Park. This place is like heaven for motor heads…over 1200 vintage and modern motorcycles and racecars, and it features the world's largest collection of Lotus'. Best part? $15 admission for adults, $10 for kids 4-12, and free for toddlers. Make a day out of it, and then head to the Carson Village Mobile Home Community for a one-night rental and rest up good because tomorrow you're in N'awlins!
New Orleans, LA (5 hours)
You've finally made it down New Orleans! A city that has a bigger mix of culture, history and character than perhaps any other town in the country…and it's Mardi Gras so all of those great qualities the city on the Mississippi River boasts are magnified by about a million. Make sure to pull your coach into the French Quarter RV Resort, a park that is pet friendly and has big rig access (so your Dynamax can rest comfortably) and is only a few short blocks from all the action. Get yourself over to the intersection of Canal and Bourbon streets to see the floats go by and start to drink in that insane atmosphere; all while you drink in a customary Mardi Gras beverage. Our suggestion would be a hand grenade, a combination of gin, grain alcohol, rum, vodka, and a few other ingredients that'll give you a Southern draw regardless of where you grew up when you're finished.
Perhaps the most important thing you can do while you're in NOLA is eat, and eat a lot. New Orleans is a city known for some incredible cuisine that just isn't the same when cooked elsewhere in the country. While you're here forget about your diet and eat these things: Fried oyster Po' Boy, beignet (French style doughnut), gumbo, étouffée (a shrimp and vegetable roux over a bed of white rice that could possibly make you see God), crawfish from Deanie's, and then of course you're going to need oysters. You'll want to check out the Acme Oyster Co., but since it's Mardi Gras and there's a 3 hour wait, head directly across the street to Felix's. Get the grilled oysters and grilled gator and you're all set.
Remember to keep your shirt on, sleep it off in your comfortable king size bed in your coach and high tail it out of there before you decide to never leave!