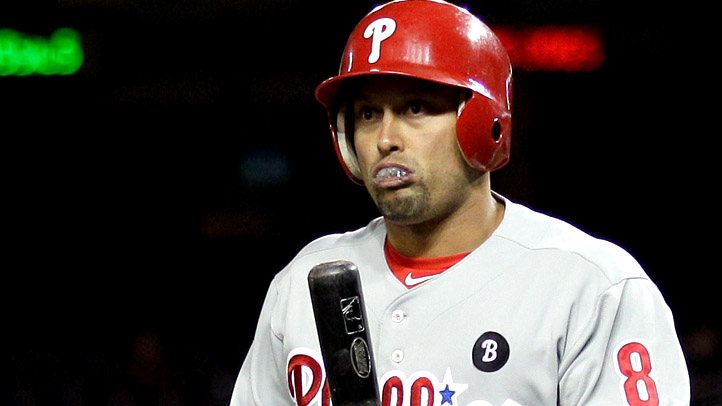 After a successful minor league rehab stint to cure his aching thumb, Phillies outfielder Shane Victorino returns to the Phillies lineup Tuesday night against the Cubs -- sorry Pete Orr. But before we welcome Shane back to the lineup (and Lord knows the Phillies could use him), we gotta make fun of the premature home run trot.
The video above was taken from Sunday's game, when Victorino led off for the Reading Phillies and drilled a foul ball into left field that he assumed was a home run, so much so that Victorino rounded second and third and was well on his way towards home when the manager, Jeff Parent, informed that once he returned home, he would have to bat again.
Parent stopped me at third and said, 'It wasn't a home run,'" the two-time Gold Glove winner said. "I said, 'Well, I appreciate you letting me trot around the bases.' No one stopped me. It was an embarrassing moment."
I don't know about you, but there have been so many times in my life where I've attended a baseball game, saw what I thought was a home run, began to celebrate and high five people, only to realize one second later that the ball was foul, or that it had been caught. Same with football. You see a long pass, you think the receiver made the catch, you go nuts, and then the catch is waved off. I feel like a MORON whenever this happens, so I must say it's a nice change of pace to have this sort of thing happen to a player, instead of to me. Victorino has shown in the past that he's got a sense of humor, so he'll likely brush it off and keep on truckin'. But if it were me out there? Yeah, I'd dig a hole in the infield and jump into it.