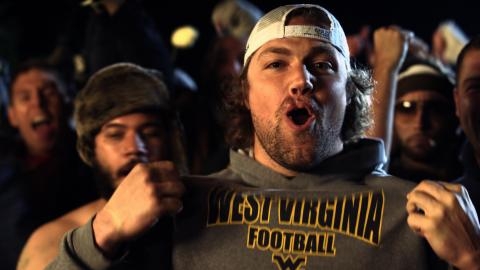 By day he's busting through lineman and blazing the way for Eagles running backs. By night he's wreaking havoc on movie sets.
No, this isn't the newest figment of Stan Lee's imagination -- this guy's the real deal.
This guy's Eagles fullback Owen Schmitt.
If you don't know the name take note. Schmitt only joined the Birds after the season started but he crashed onto the scene in a big way Sunday versus the Redskins with three catches for 43 yards.
He's also the newest face in a rapidly growing Philly film scene.
After fullback Leonard Weaver went down in the opener, Schmitt was at the top of the Eagles list for replacements.
He didn't hesitate to sign when the call came.
Schmitt was drafted by the Seahawks in the 5th round of the 2008 draft after heading a West Virginia backfield along side college superstars Pat White and Steve Slaton.
The Birds were likely attracted to his brash, unselfish, hard-hitting, self-inflicted-face-smashing, (yeah he smashed his own head with his helmet) style of play that would work perfectly with another explosive back field featuring LeSean McCoy and Michael Vick (give or take some broken bones.)
For all those reasons local Philadelphia filmmakers Shaun Paul Costello, Joe Gariffo and Brian Gallagher also gave Schmitt a call -- a call to the big screen.
Once again, Schmitt didn't hesitate to jump on the opportunity.
The film is Booted. Shot all in the Philly area and starring Philly actor Greg Bell, Allan Ruck (Ferris Bueller's Day Off, Spin City) and Jackass' Ryan Dunn.
Even NBC10's Doug Shimell and Bill Henley make cameos.
Schmitt wasn't able to smash heads in the film but he plays a larger than life bum who befriends Bell as he is trying to get his girlfriend back by selling hot dogs off his booted car engine.
Whew!
Sounds as complicated as Andy Reid's playbook -- it's just executed better.
As if testing screen passes on the field wasn't enough, he's passing screen tests in the theaters as well.
Either way, Schmitt's in the middle of all the action.