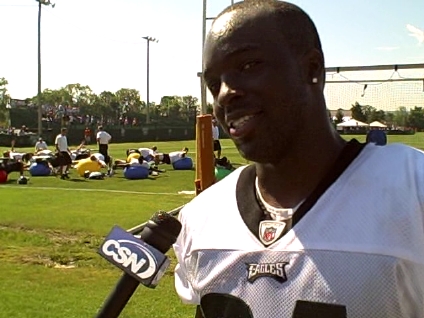 The Eagles basically ended defensive end Ricky Sapp's rookie season Tuesday before it even began.
Sapp was placed on Injured Reserve with a knee injury. He missed practices recently and head coach Andy Reid was hinting that the rookie out of Clemson could need surgery. The 6-foot-4, 252-pounder underwent an MRI on the knee but it wasn't clear what the tests revealed.
In any case, the writing was on the wall that the Eagles fifth-round pick wasn't likely going to make the 53-man roster anyway after he underwhelmed at camp. The knee injury gave the Eagles the chance to stow away Sapp on IR and gives Sapp time to get healthy so he could hopefully impress the Birds next season.
To take Sapp's spot on the currently 75-man roster, the Birds claimed former Standford defensive end Pannel Egboh off waivers from the Texans.
At 6-foot-6, 287-pounds, Egboh is an imposing figure but he has yet to find the playing field. He spent 2009 training camp with the 49ers and eventually wound up on the Texans practice squad for the last four games.
He could possibly land on the Eagles practice squad as a big body for the offensive lineman to deal with but don't expect him to make much of a roster splash after coming to the Birds so late in the preseason.