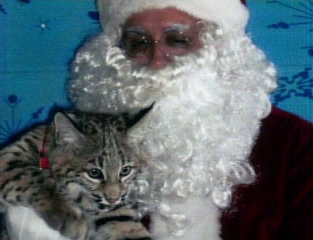 Elusive no more. The owner of a large cat that attacked a man posing as Santa Claus last weekend in South Jersey came forward Wednesday.
Despite initial fears that the animal was a bob cat—illegal to own as pets in New Jersey-- the animal's owner, Christine Haughey insists "Benny" is actually an 8-month old Pixie Bob, a recognized, legal breed.
It is"a unique breed of cat with bobcat heritage," according to the website, catsinfo.com. But the head of the Atlantic County S.P.C.A. can't be certain and Pixie Bob breeders across the country have been contacting NBC10 to say they believe it is a bobcat.
"There's nothing really special about him, just the way he looks," said Haughey of Egg Harbor Township, N.J. during a Wednesday morning interview with NBC10 News.
The cat repeatedly bit Jonathan Bebbington while it was on his lap for a 'Santa Paws' photo with Old Saint Nick during a charity event at the Mays Landing PetSmart store Sunday morning, he said.
But according to Haughey, Benny is a friendly, 8-month-old feline who merely got spooked by other pets at the store.
"Upset. I was upset," she said about the attack.
Haughey left the store before anyone could get her name, organizers said. She claimed Wednesday no one asked for it. Without seeing the cat's veterinary records, Bebbington faced a series of painful rabies shots, he said.
Haughey came forward after a Tuesday evening report on NBC10 News, in which Bebbington and others begged her to do so.
He shouldn't worry, she said. Haughey showed NBC10 Benny's veterinary records and rabies tag to prove the cat has received all necessary vaccinations.
As the story continued to make national headlines, Bebbington appeared relieved.
"I am definitely grateful that she had come forward," he said following a live interview on MSNBC Wednesday morning.
Haughey turned the cat's veterinary records over to the Atlantic County Health Department Wednesday, a department spokeswoman confirmed. She has been ordered to keep the animal confined, until state health officials can be sure he does not show any signs of being rabid, the spokeswoman said.
Bebbington said despite his scars, he will continue taking Santa pictures with pets. According to Haughey, Benny won't be one of them ever again.
"I'm really sorry, Santa, that he bit your hand and I apologize…I'm done. I learned my lesson for taking Benny out the house," she said.