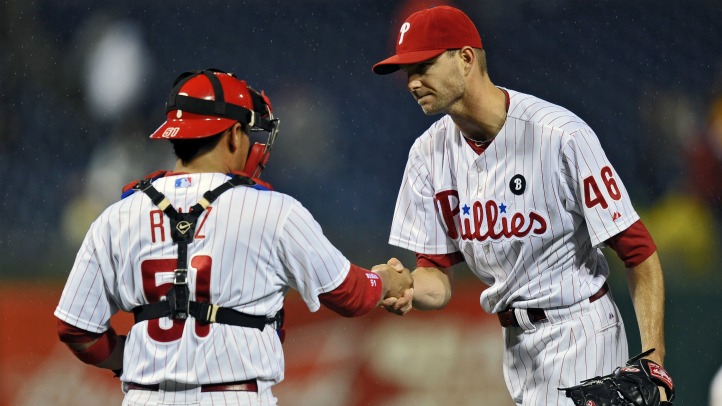 Ruben Amaro is clearly not a fan of playing the waiting game.
The team has signed Jim Thome, they've been making a push for Michael Cuddyer and now comes word that they are making a big run at bringing Ryan Madson back before he even gets a real taste of life as a free agent. Both Jayson Stark of ESPN and Ken Rosenthal of FOX are reporting that the Phillies are moving closer to getting a deal done with Madson.
Another report makes it clear that Amaro isn't putting all of his eggs in the Madson basket. Jon Heyman of SI.com reports that the team is also in discussions with Jonathan Papelbon, the longtime Red Sox closer who also hit free agency last week.

Amaro won't comment on any specifics about the team's pursuit of either player, but he doesn't deny that he's making serious inroads toward filling the closer spot for next season.
He told Rosenthal that he's talking to "everyone" and explained his philosophy about the closer hunt in a little more detail to Todd Zolecki of MLB.com.
"We don't want to let all of our options slip by, so we're going to be aggressively patient, I guess."
While you can (and maybe should) argue with Amaro's insistence on signing a gold-plated closer this offseason, you can't argue with making the market for one by yourself. Scott Boras represents Madson and he would like nothing better than letting the chase for his clients heat up as long as possible so that he can either find other bidders or invent mystery suitors who force a few more dollars to the surface.
Engaging Madson, Papelbon and possibly others at the same time ensures Amaro won't be left without a partner come the night of the big dance. That's the best strategy to employ because it means you aren't going to get held up by anybody who knows that you're desperate to make a deal.
None of these reports say anything about numbers. The length and total value of any deal is going to be a big part of assessing Amaro's work, but you can't accuse the guy of operating without a plan.
Copyright FREEL - NBC Local Media