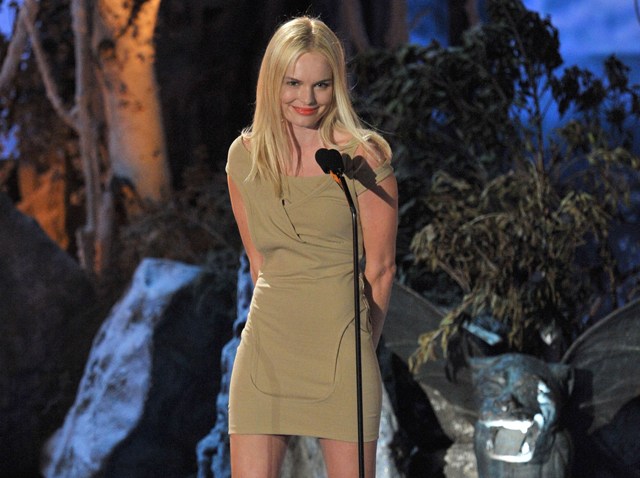 Spike TV's "Scream 2009" awards honors "the best" in fantasy, sci-fi, comics and horror. To give you a sneak peek at what you might see Tuesday night (since the show's already been taped): here's a red carpet recap.
For the Scream 2009 Awards, some big-name celebrities turned out, including Jessica Alba, Harrison Ford, Johnny Depp, Liv Tyler, Morgan Freeman, Megan Fox, Tobey McGuire and many others. Kate Bosworth was in attendance and her red carpet attire is worth discussing…
Kate Bosworth, who was a presenter at the award show, had a look that hits on three current trends:
1. Less is more.
Bosworth wore a very short, tan-colored dress that was, for all intents and purposes, a very fitted shirt dress. The dress had very little to it in the way of design elements or embellishments. The short sleeves had a cut-away, which made it look like there was a band of fabric around her arm. Bosworth wore her super blonde locks down and straight and wore no jewelry. Her make-up was minimal, with the focus on her orange-red lips. By going with the "less is more" approach, she allowed the "wow factor" to be her shoes. (More below.)
2. Exposed zipper.
Bosworth's dress had an exposed zipper down the one side, which has been a big trend this year. An exposed zipper must make any traditional designer or seamstress a little uncomfortable because it goes against some old-school code of design aesthetics. An exposed zipper makes any garment look more utilitarian, and brings it down to a more casual level, which certainly was the case for Bosworth.
3. A touch of cheetah.
To round out her look, Bosworth chose a pair of pumps with a cheetah print. By down-playing the rest of her look, her shoes really popped. The shoes brought a pattern to the otherwise muted look, and cheetah (as well as zebra, giraffe and other jungle-inspired prints) is popular right now. Bosworth did not over-do, but really got it right by just going with a touch of cheetah, with her shoes.
---
South Jersey's Erica Salmon is the founder of Fantasy Fashion League -- the fashionista's answer to fantasy football. You'll see her Red Carpet Reports on the sport of fashion, every Monday on NBCPhiladelphia.com.