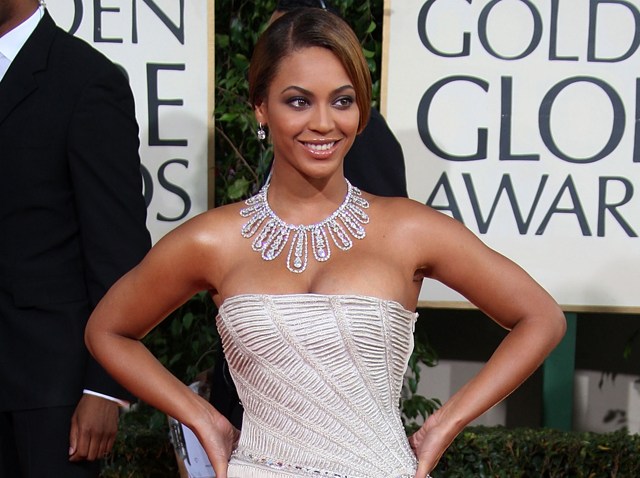 The official countdown to the Golden Globes is on. With six days left to speculate on who will win and, more importantly, who will rock the red carpet, those of us at RedCarpetMVP.com are busy bees. Of course, last week's less popular award shows had us all buzzing about Mariah Carey, but my prediction is that her 15 minutes of 2010 Award Show Season fame is over. I could be wrong ... could she be Oscar bound? My eyes are on Sandra Bullock, Meryl Streep and the other big-time nominees.

For those of us who follow these things way too closely, we can't help thinking back to what happened at last year's Golden Globes.

The 2009 Golden Globes ceremony was particularly exciting because in 2008 there was no red carpet hoopla -- the writers' strike was in full swing and the actors boycotted the Globes in support of the strike. But last year, the celebs were out. Here's my retrospective recap:
All that glitters is gold at the Golden Globes. And in 2009 the hottest Red Carpet Moms of Hollywood proved that they've still got it and they know how to work it. Jennifer Lopez, the night's first presenter, wore a revealing glittery gold Marchesa gown. When she took the stage and the crowd didn't quiet, Lopez's maternal instincts kicked in. She shooshed the crowd, snapped her finger and said, "Shhh, mommy's talking."

Red Carpet Mom of six, Angelina Jolie, turned heads in a glittering silver gown by Versace. Her escort, best actor nominee Brad Pitt, turned heads as well in a Tom Ford tux.

Beyonce, who is not a mom, shined as well. She wore a striking Lorraine Schwartz necklace that was breathtaking. Beyonce was actually dripping in diamonds.

Christina Applegate, who was a nominee at last year's Globes, also wore a stunning necklace by Lorraine Schwartz. It was a unique design of vintage-inspired flowers. She looked radiant in a yellow Roberto Cavalli gown.

The overall look was classic with a twist. One shoulder dresses were popular and continued to be for the rest of 2009. Unique jewelry was critical and helped define a new era of red carpet jewelers; it wasn't all about Harry Winston and the old school designers of years gone by.

Will these trends continue? We'll find out on Sunday. I know I'll be watching!!

South Jersey's Erica Salmon is the founder of Fantasy Fashion League -- the fashionista's answer to fantasy football. Her newest online fashion game, RedCarpetMVP.com, launched just in time for the 2010 Award Show Season. You'll see her Red Carpet Reports on the sport of fashion on NBCPhiladelphia.com.