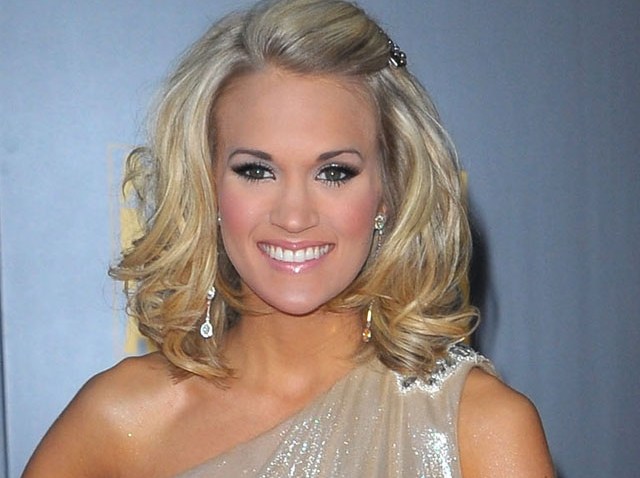 The American Music Awards took place last night and the red carpet was all about sparkle. Here are the trends spotted:
Metallic – For Carrie Underwood, Samantha Harris, Fergie, Kristen Bell and Selena Gomez, shiny was the look. For Underwood, Harris, Gomez and Bell, the material was almost silver/gold lame and all three went for short dresses. (And we all know Carrie Underwood knows how to do short!) You could have lined up the four of these ladies and thought they had gone to the same, short, metallic dress sale and all cleaned up! Fergie went for a long gown, but the fabric had a strong metallic sparkle.
Pointy bustline – Alicia Keys and Leona Lewis are two heavy hitters in the music industry and their dresses were rather similar in design. Both wore short, strapless dresses with a bustline that came to two pronounced points, angling toward their faces. Lewis' was more dramatic that Keys', but both dresses were very stiff.
Overstated shoes – Booties/ankle boots are still in, and they were seen on the red carpet. Leona Lewis was sporting a pair. Gladiator sandals were seen on Gomez, Keys and Underwood. Keys' gladiator shoes were dyed the same intense turquoise blue as her dress. I haven't seen such matchy-matchy with a dress and shoes in a long time. And Shakira wore a bright yellow dress that was only outdone by her over-the-top, very uncomfortable looking platform heels.
Doing their own thing – Rihanna and Paula Abdul were doing their own thing, with black dresses that had unique cuts and lots of fabric. Rihanna had a dress that was asymmetrical, with the front of the skirt of the dress much higher than the back. The skirt was black on the outside and lined in white, which you could see because the front was so short. The dress also had black and white accents and cut-outs. The top was strapless, with excessive, stiff fabric framing her shoulders, similar in style to the dresses of Keys and Lewis. Rihanna wore white heels with an ankle strap.
Abdul wore a classic mermaid style, strapless dress, all black, with a very extensive train. The dress had a black lace overlay, and she wore what looked like short, silver, metallic gloves, but they may have been very extensive and unique bracelets. Abdul's long dress with train ensemble stood out, because so many other dresses of the night were very short. She also needed a team of people to help her navigate her train.
The American Music Awards red carpet had some serious hits and misses; it sounds like the live performances during the event had many hits, and a fair share of misses, too.
---
South Jersey's Erica Salmon is the founder of Fantasy Fashion League -- the fashionista's answer to fantasy football. You'll see her Red Carpet Reports on the sport of fashion, every Monday on NBCPhiladelphia.com.