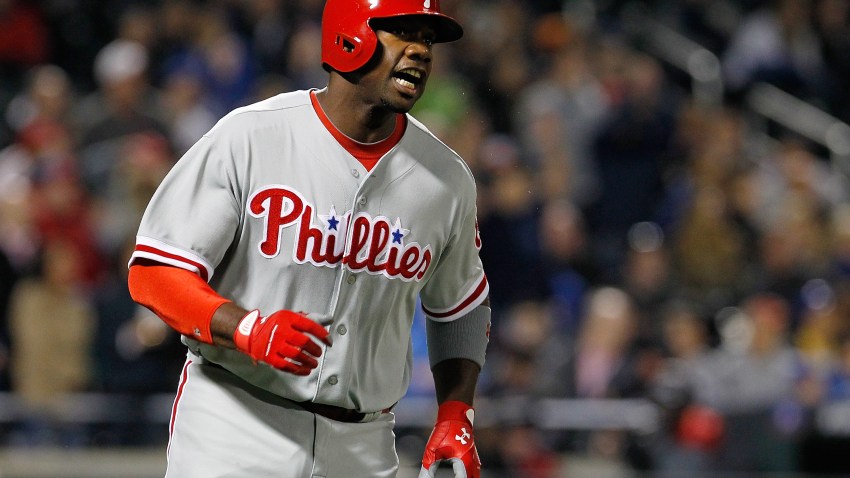 In baseball, there is occasionally a singular moment that you can point to, definitively, as the one moment that had the greatest impact on the course of the game. Whether it's an error with two outs that leads to a six-run inning, or a bases loaded at-bat that ends with an inning-ending double play, there is sometimes that one moment that changes everything.

In Sunday's contest against the Mets, that occurred in the top of the seventh inning, with the game tied a one apiece. With Mets starter Jonathan Niese on the hill, they put together back-to-back singles to put runners on first and second with two away. With Niese at 117 pitches and the right-handed hitting Kevin Frandsen coming up, Mets manager Terry Collins saw fit to pull his starter from the game and replace him with the right-handed reliever Scott Atchison. Seeing an opportunity to give the Phillies the lead, Charlie Manuel called upon Ryan Howard (who wasn't in the starting lineup) to pinch hit with two away and the go-ahead run on second base.

The well-traveled Atchison started Howard with a pair of sliders that missed the plate, putting him in a 2-0 hole against the Phillies first baseman. Under normal circumstances, it might make sense to pitch around Howard in this situation, but with two men on and Chase Utley on deck, Atchison had no choice but to throw a strike. And when you throw a strike like Atchison did (a fastball over the outer edge of the plate), you cannot be surprised when Howard hits it 400 feet to the deepest part of the park for a two-run double.

For Charlie Manuel and the Phillies, it was the perfect storm of good fortune and good hitting, and it was enough to propel them to a 5-0 win and the series sweep. It was that Ryan Howard at-bat that irrevocably altered the course of the game, and it wouldn't have been possible if Howard had been in the starting lineup.

With the left-handed Niese on the hill, it made perfect sense to sit Howard, even with an off-day on Monday. For his career, Howard is 1-for-15 (.067) against Niese, with a walk and seven strikeouts, so it made perfect sense to let him have the afternoon off in favor of the right-handed hitting Kevin Frandsen. As luck would have it, Frandsen's spot in the order came up at the exact right time, and Ryan Howard had the biggest possible impact he could have on a game that he did not start.

And it's because of Sunday's game that Ryan Howard should not start a game against a left-handed pitcher for the rest of the season.

For better or for worse, Ryan Howard is one of the most polarizing athletes in Philadelphia. His supporters tout his home run and his RBI totals, and his detractors point to his high strikeout totals, declining OPS, and bloated contract.

Me, I like Howard. I like him because he is a good hitter who was a vital part of perhaps the greatest era in Phillies history, and I don't hold it against him that Ruben Amaro offered him that contract. For all his faults, accepting one of the largest contracts in the game wasn't one of them. For as much as I like him, that doesn't mean that he isn't also a frustrating hitter to watch, in part because he can't keep himself from swinging at whatever slop that the opposing pitchers are throwing. But then Sunday comes along, and Howard does what all good hitters do: he put himself in a good hitter's count, he waited for his pitch, and he didn't miss it.

And the reason he got to have that big hit was because he wasn't in the lineup to begin with, most likely because Charlie Manuel knew it was an act of futility to essentially concede three at-bats before the game even started. It makes perfect sense, because as a manager you want to make sure you are getting the best possible production out of your lineup.

So, then, doesn't it make sense to sit Ryan Howard against left-handed hitters more often? After all, he has a .575 OPS in 24 at-bats against LHP this season. And it's not like this is a new trend, either:

2012: .604 OPS, 6 HR in 98 AB (.784 OPS, 8 HR vs RHP)
2011: .634 OPS, 3 HR in 170 AB (.921 OPS, 30 HR vs RHP)
2010: .826 OPS, 12 HR in 193 AB (.876 OPS, 19 HR vs RHP)
2009: .653 OPS, 6 HR in 22 AB (1.088 OPS, 39 HR vs RHP)

For his career, Howard has a .736 OPS in 1,420 ABs against left-handed pitchers. Conversely, he has a 1.001 OPS against right-handed pitchers. Quite literally, he is a different hitter when he is facing a lefty. Does he have the ability to hit for power against lefties? Yes. But that doesn't mean that you shouldn't sit him in favor of someone who, historically, has more success against Southpaws.

Something I've talked about a lot on this blog is Charlie Manuel and the Phillies getting the best possible value out of their players. Sometimes that means platooning them, sometimes that means playing them full time, and sometimes that means using your closing pitcher in the eighth inning. Ultimately, it comes down to putting the players – and really, the team - in the best possible position to win a baseball game. For Howard, that means sitting him against left-handed pitchers.

That isn't a terribly popular opinion in some circles, because there is the argument that you can't turn a $20 million first baseman into a part-time player, but that is a specious one, at best. Howard's salary should have as much do to with his playing time as his favorite color. In other words, his paycheck should have nothing to do with this playing time. Just because Ruben Amaro saw fit to give him that contract doesn't mean that he should start against pitchers who he is horribly over-matched against.

The good news is that, over the course of the season, teams will face more right-handed starting pitchers than left-handed ones, so Howard is going to start more often than not. And when he doesn't, he's going to be available as a pinch-hitter, where he is a .400/.463/.1000 hitter in 37 at-bats. The added benefit, there, of course, is that having him as a weapon in the late innings is going to make opposing managers think twice about the pitching changes that they are going to make knowing that they might have to contend with Howard.

Ultimately, the Phillies are in this to win baseball games. And since they are firmly entrenched behind the eight-ball this season, they are going to have to extract as much value out of every player as possible if they want to have a chance to play in October. And as it pertains to Ryan Howard, that means not starting him against left-handed pitchers for the greater benefit of the team.