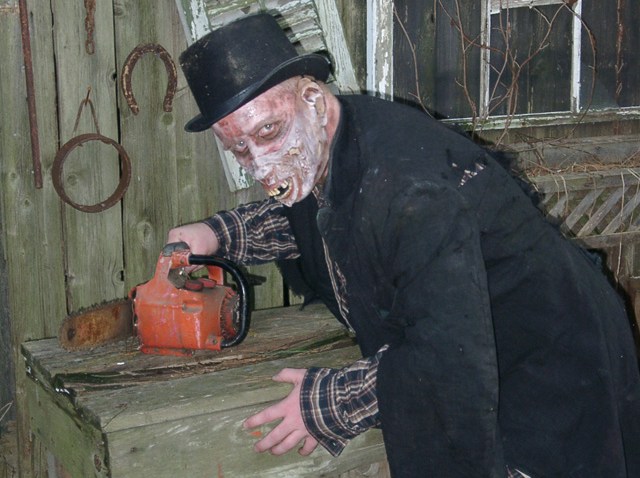 With Halloween only a day away, hordes of people will flock to haunted hayrides and attractions to get their fill of fright. Here are some of the best the Philadelphia area has to offer.
Bate's Motel
Located on Arasapha Farms, Bate's Motel offers some of the best scares around. You can choose between Bate's Motel (the haunted house), The Haunted Hayride and The Haunted Corn Maze. If you're feeling brave, you can go for the Combo Pack and experience all three.
Frightland
Boasting a whopping eight heart-stopping attractions, Frightland was voted as one of America's Scariest Halloween Attractions by The Travel Channel. Located in St. Georges, Del., people looking to be freaked out can choose between haunted houses, haunted barns, haunted hayrides, haunted woods and even a haunted ghost town. Frightland is guaranteed to offers scares in any environment imaginable.
Jason's Woods
Celebrating 24 years of horror, The Legendary Jason's Woods in Lancaster is guaranteed to make you shake in your boots with nine attractions, including a 3D adventure called Pirate's Revenge. You'll also get your share of haunted houses and hayrides, but the attraction that sounds scariest to us? The new Escape from Oz. Wait, does anyone else find The Wizard of Oz terrifying?
Field of Screams
Located in Mountville, Pa., Field of Screams is a huge attraction designed to scare you down to your bones. You'll get your fill of haunted houses and hayrides, but the folk here go all-out in their best attempts to give you a heart attack. There's also a not-so-horrifying "Little Screamers" hayride for the kiddies that don't care for scares.
Terror Behind The Walls
As if being one of the most notoriously haunted abandoned prisons in the world isn't scary enough, the folks at Eastern State Penitentiary turn the eerie jailhouse into the city's best horrifying attraction every year. With its six terrifying attractions, Terror Behind The Walls offers some serious spine-tingling scares, rain or shine. Who knows, you may even see a real ghost or two.
Fright Factory
Four chilling adventures await you at the Fright Factory in Philadelphia, where over 20,000 square feet of fear-inducing thrils and chills are sure to give you the creeps. And the best part? You get to experience all four attractions for just one low price. Frugal frights -- that's what we're all about!
House in the Hollow
Located on Active Acres Farm in Bucks County, Pa., House in the Hollow offers a Haunted House, the Field of Fright and the Sleepy Hollow Hayride. You can experience all three for just $30, or opt to check out the attractions individually. Either way, we can all agree on one thing, farms are creepy at nighttime.
Horrorfest at Shady Brook Farms
Shrouded in the tale of Colonel "The Reaper" Reapord -- an evil man who supposedly opened a fake sanitarium at the government's expense where he tortured mentally ill Civil War soldiers -- Shady Brook Farms now hosts Horrorfest, which features 4 attractions, including a 3D Alien Encounter. Be on the lookout for the ghost of the sinister Colonel Reapord if you attend.
Shocktoberfest
Voted the number one Must-See Haunted Attraction in America by Haunted Attraction Magazine, Shocktoberfest is sure to give you the willies with its six hardcore attractions. The most unique of the bunch are the Biohazard Hayride, the Toxic Asylum 3D Extreme and Club Shock: Ghouls Gone Wild (a haunted nightclub). Enter at your own risk, but don't dare take one of those uglies home with you.
You can by tickets for haunted attractions here.